Disgaea Levels Up With A New Patch
Send in the penguins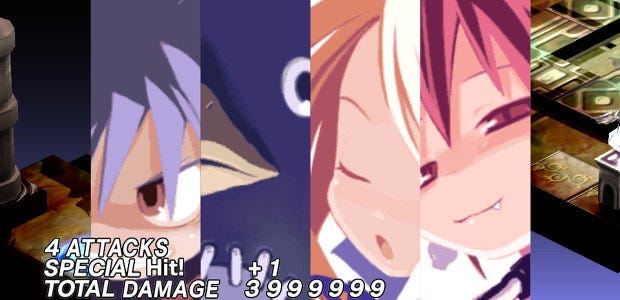 If you've played Disgaea [official site], you know how it goes. You can enter the world of any item, fight in the randomly-generated dungeon you will find in it, and if you come out victorious not only you will gain experience points for yourself, but you'll level up the item as well. Then again, if you've purchased Disgaea on PC, maybe you don't know how it goes. The game's launch has been plagued by all kinds of technical problems.
Developers NIS have quickly assembled a diligent team of penguins and sent them to explore the inner worlds of their own game code. After clearing thousands of floors, piling up in pointless penguin towers and dealing billions of points in damage to the various monsters and creatures they found in it, the code leveled up! And so, a week after launch, a pretty substantial patch has arrived to a fair share of the problems.
The problems were pretty substantial, from crashes on startup to very low FPS no matter how powerful the hardware, from issues with SSAO and V-sync to lost save files. A large patch last Thursday, followed by a smaller fix on the following day, seems to have cleared the most pressing of those issues, and player reception has confirmed that NIS' work was largely effective.
If you're still having problems, the Steam forums offer some possible solutions, ranging from reinstalling OpenAL and VCRedist to updating your Intel drivers on Win7, or opting out of the Steam Beta client, for some reason. See this post from NIS for details and instructions.
If instead you were holding back, waiting for the problems to be cleared, the game seems to be in a much better state now. Not perfect, but playable, for the most part.
All our prayers go to those brave penguins that have put their lives on the line and have fallen for the sake of the players during their glorious mission.