Dishonored 2 Announced For Spring 2016
Stab-o!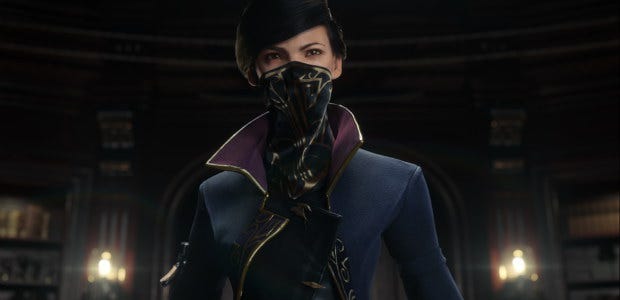 First-person supernatural sneaky murder simulator Dishonored is indeed getting a sequel, which was never in doubt but is still splendid news. Publishers Bethesda last night announced Dishonored 2 [official site], which will let folks travel to a new land to stab faces as either the first game's face-stabber, Corvo, or the first game's small girl, Emily Kaldwin.
It's set 15 years later after she's received a visit from the Outsider to get her own magic powers, mind. Come see in the announcement trailer.
That bit of pre-rendered action is about all we have to go on for now, but it is pleasing to the eye. I like the look of her powers. Also robots. Beyond that, and word that it'll launch in spring 2016, I'll turn you over to fact sheet details for a description of the game:
"Explore a world unlike any other as either Emily Kaldwin or Corvo Attano - both powerful assassins with their own unique set of supernatural abilities, weapons and unusual gadgets. Define your own playstyle by blending immersive first-person action, assassination, stealth, mobility and the game's brutal combat system. Combine the tools at your disposal to creatively eliminate your enemies whether you choose to pursue them unseen or ruthlessly attack head on with weapons drawn. Show no mercy and leave chaos in your wake or find a more subtle way to eliminate your targets. More than ever the choices you make will determine the outcome of each mission, and ultimately the game."
Yup, that sounds like a Dishonored game all right! And here's a bit on its plot:
"Dishonored 2 is set 15 years after the Lord Regent has been vanquished and the dreaded Rat Plague has passed into history. An otherworldly usurper has seized the throne from Empress Emily Kaldwin, leaving the fate of the Isles hanging in the balance. As either Emily Kaldwin or Corvo Attano, travel beyond the legendary streets of Dunwall to Karnaca – a once-dazzling coastal city that holds the key to restoring Emily to power. Armed with the mark of the Outsider and powerful new supernatural abilities, hunt down your enemies and forever alter the fate of the Empire."
This is a video game I am jolly keen to see more of.
[Disclosure: former RPS columnist, occasional RPS newsie, and full-time dear friend Cara Ellison has worked on Dishonored 2.]