Dishonored 2 Gamescom Trailer Shows Emily's Skillz
Gettin' stabby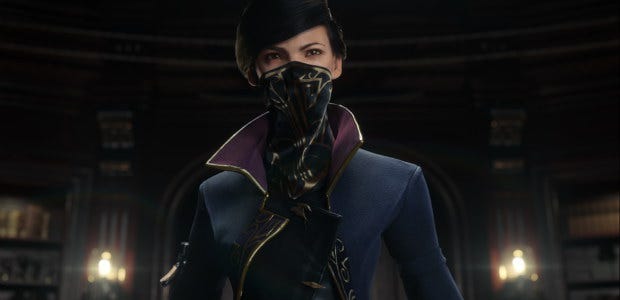 There will be many ways to play Dishonored 2 [official site], rewarding players for stealth and more brazen maneuvers both. We got a glimpse of some of Corvo's more aggressive skills at QuakeCon. Now, with Gamescom festivities well underway, Arkane gives us a glimpse at what empress Emily Kaldwin has up her sleeve, and she is easily just as vicious. Take a look!
Emily is quite a force, going by the video. It seems she specializes in aerial take-downs and special warpy stealth moves. Emily can transform herself into some sort of phantasmic rat, allowing her to sneak up on unsuspecting baddies and dismember them. I typically don't have the patience for stealth, typically giving myself approximately two seconds of sneaky time before I give up and go in guns a'blazin. But this? This I might be able to get behind.
If that's not enough, Emily Kaldwin has a neato warp ability that has her zipping around the room before anything can even think to touch her, which certainly comes in handy when taking out a guard of eerie steampunky robots.
Dishonored 2 switches things up a bit, letting you play as either Corvo or Emily this time around, using their distinct abilities to navigate the Mediterranean-inspired city of Karnaca. It's out November 11 on Steam for £39.99/59,99€/$59.99.