Dispatch cops in your hometown with 911 Operator
Bomb threats and pizza delivery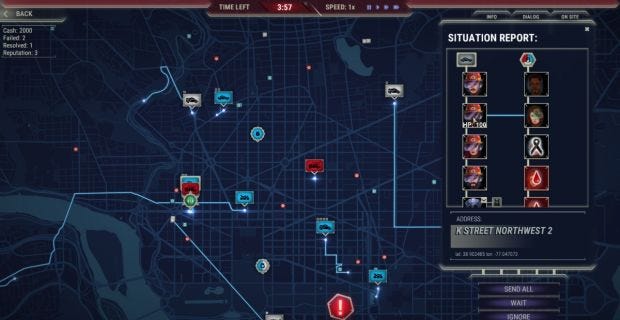 Emergency services simulator 911 Operator [official site] was released on Friday, putting you at the desk of an operator who takes calls and dispatches ambulances, fire trucks and police units to help citizens (or sometimes just to shut down a loud party). I've just played about 45 minutes, during which time I ignored all public drunkenness in a fictional town and saved a cat from a tree. It was fun, in a surprisingly slow-burning way. But then I entered the game's 'free mode' and it detected my own city, quickly loading up a map of San Jose to play in. "That's quite impressive," I thought, as I peered at the 'search for other city' field. Expecting no results, I typed in my hometown. Lo and behold, it loaded up. I can now direct the police force of Lurgan, Northern Ireland.

Of course, the crimes and callers don't change depending on the city. There are 50 pre-recorded calls you can receive and 140 different types of encounters. I have chased stolen cars and attended the scene of a robbery. I've also quickly sent police to check on the children of an arguing and drunken couple (I initially thought the caller was just moaning about their TV being too loud but staying on the line she told me some other details that made me want to send a policeman or two). On the other hand, there have been errors. I hung up on one caller immediately because they asked for pizza, only to later discover it was a threatened person trying to request help without attracting suspicion from criminals in the same room.
In reality, the police will not visit certain parts of Lurgan. So it's fun to see them darting in and out of those areas without a second thought or encountering any problems specific to a, er, particular zone. Although there have been plenty of fights and car crashes, everything in town so far is a kind of universally mundane emergency.
Oh, no, I'm lying. JUST as I dipped back in to check on something, this happened.
Perhaps it is tailored to individual cities after all!
I imagine it might run out of juice after repeated play, as the calls and emergencies repeat themselves, but developers Jutsu Games say they are planning to add new content at a later date. You can currently pick it up on Steam for £10.99/$14.99.