Larianew Year Resolution: Divinity Polish And New RPGs
Two new RPGs on Original Sin engine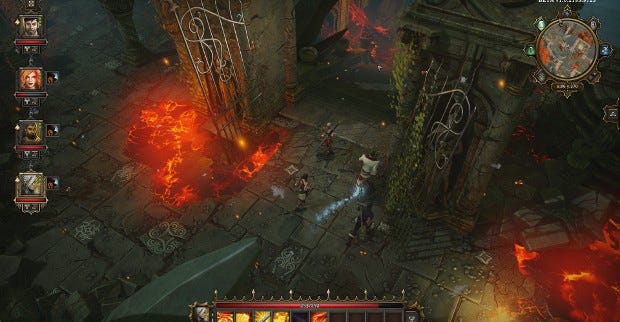 2015 is almost here and I'm sure you have a plan. You do have a plan, don't you? You're not planning leave the year to chance, skipping gaily across the pages of the calendar like a child through a meadow, are you? Because the meadow/calendar is filled with vipers. I'm... look, sorry, we've caught a case of the day-before-last-day-of-term sillies.
What I mean to say is that Divinity: Original Sin devs Larian have revealed their plans for 2015, 2016, and into the hazy future: keep polishing the RPG (which already won our Bestest Best Kickstarter award, doncha know?), and get stuck into another two RPGs on the same engine.
Over on his blog, studio founder Swen Vincke grumbled about bits of Original Sin that didn't turn out super-great because they had a small team and didn't have time:
"In one paragraph and unsurprisingly, my biggest issues with the game are the same things most people had issues with. I think the main story can be told a lot better and has more potential than is apparent, that combat falls a bit flat after act 1 and that crafting, inventory & trade UIs could use a bunch of improvements. Certain dialogs should be done better, there's still a lot of feedback missing from tooltips & skills, and at higher levels character progression isn't as cool as it should be. Our loot system doesn't behave as hoped for, and the companions could use some work."
So Larian will be fixing those up. Handily, lots of fixes and improvements to Original Sin will also carry over into other games on the engine. He says:
"It also means that we can spend most of our resources on developing new cool stuff without having to reinvent things that worked well already. And it immediately gives us a rationale for putting unreasonable amounts of effort in fixing the things we didn't do that well in D:OS, meaning our existing players will continue to get improved gameplay for as long as we can maintain compatibility."
As for what those two games are, well, the specifics are secret for now. He's tossing the word "epic" about and talks of "dense, highly interactive worlds where the amount of possible interactions continuously increases and your freedom to do as you want approaches that of a pen & paper RPG." Gosh-o! It's big talk, but I'd certainly like to see them try to deliver on it.