Do Not Disappear Into Oblivion: New Skywind Trailer
Not playable tomorrow-ind, but soon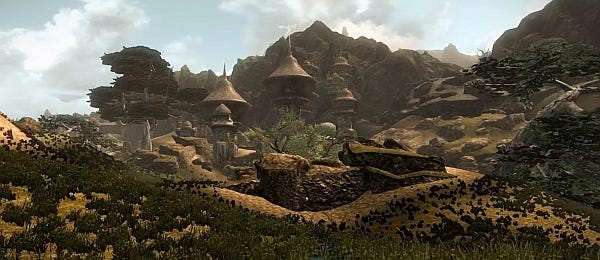 It was only December that Craig last came scampering along on the back of a Silt Strider, bouncily telling us all about Skywind, a mod project to port the world, creatures and mechanics of Morrowind to Skyrim's fancier engine. Now there's a new trailer showing features for the next update, and a thought occurs: maybe they're going to pull this off.
I'm so used to these modern conversions of old games stalling mid-development, that I immediately approach them with skepticism. There's now enough here that I'm starting to open up my hope glands and spurt optimism juice all over my clothes. It's kind of a problem.
The content in the video above is now yet publicly available, as it's almost entirely from the next build. There's no release date for that as yet, and the previously available alpha has since been taken down. That's maybe just as well, as it was incomplete and a complicated cocktail of installs. You'd probably rather simply listen to the trailer music over and over again like me. I don't know though, I'm not your dad.
You can follow development on the Skywind forums, where they're looking for volunteers to help with all sorts of tasks.