Do You Have A Flag? Battlefield 3's End Game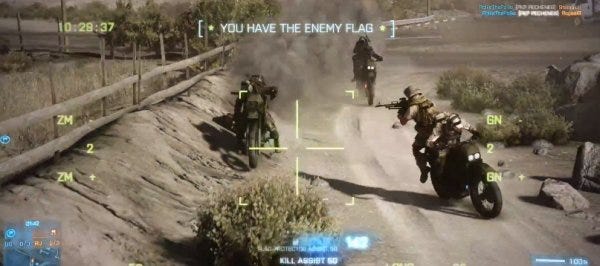 I do hope you hold an opinion about Battlefield 3. It'd be awful to found without one. If you're lacking, can I suggest: "I really think they made it fall too graphicy since Battlefield 2," or, "While the tanks may roll more impressively, it's hard to forgive the angle of the helicopter blades." Those should get you by. Or you could see if there's something new you can pick up in this End Game trailer, March's final expansion to the series that'll reintroduce flag capturing, and dirty bikes.
If only all wars were just about capturing a flag.
End Game also includes four new maps designed to be appropriate for the chasey-chases you see in the vid, two other vehicles (although they don't boast which), and a new dropship, capable of plopping vehicles into the fray.
EA seems keen that players pick up End Game as part of a £40 bundle, that includes all five expansion packs, but doesn't list itself as including the original game. However, there's a £45 bundle on Origin with the lot.