Don't Buy ProFlightSimulator
The sim that puts the con in contrail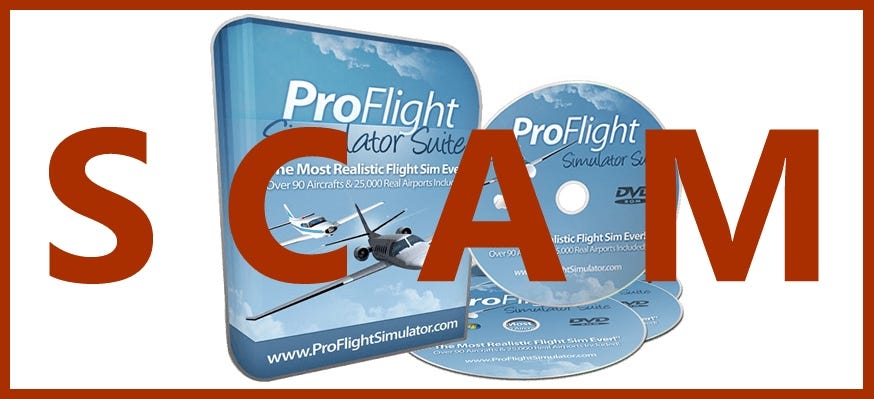 Judging by the "I fell for it too" messages still appearing regularly on flight sim forums, the shameless parasites behind ProFlightSimulator and its equally vile sibling VirtualPilot3D are still persuading unwary online punters to pay 67+ USD for an old, superficially tweaked version of FREE open-source flight sim FlightGear. In today's Flare Path I examine some of the latest lies the ProFlightSimulator scammers are using to fleece fans of faux flight.
Since I last drew attention to the activities of the FlightGear rebranders/profiteers, the cunning so-and-sos have added a source code link and a smoke-and-mirrors 'Why ProFlightSim isn't FlightGear' statement to their site. They've also reworked their spiel, added dubious new 'extras' to their deal, and upped their prices. What hasn't changed is their extraordinary willingness to lie in the pursuit of sales.
As honest as an Operation Fortitude Sherman tank, the ProFlightSimulator screenshot page tells you all you need to know about the PFS 'team's' ethical standards. Eleven of its thirteen images are stolen goods – purloined pics from FSX product pages, videos, and download repositories. That A380 in the first shot is a Wilco creation. The Beaver overflying Rio in the last one, is one of FSX's stock aircraft. The devs are so proud of their "REAL scenery" that they choose to illustrate it with Italian and Israeli screenshots grabbed in a completely different game.
The videos that dot www.proflightsimulator.com are as phoney as the jpegs. The software used to record them has an incredibly bizarre flaw. When asked to record sequences of, say, PFS's high-detail San Francisco Airport or amazing weather code it somehow manages to pillage YouTube's FSX section instead.
Mark Duran, Ozil Aguirre, and John Irwin claimed responsibility for VirtualPilot3D. Apparently "hundreds of developers" under the guidance of one Gordon Dan Freeman are behind ProFlightSimulator. I can't tell you much about the talented Mr Freeman but my internet searches have revealed that when he isn't coding "The Most Realistic Flight Sim Ever Created!" he likes to...
Chill on the couch for a while.
Do some reflecting.
And think about stuff.
Judging by the testimonials that litter his site, I'm guessing that one of the topics he regularly mulls over while kickstarting the day with a cup of coffee is "How can I make my bogus 'contented customer' testimonials seem plausible?"
Dan's primary method seems to involve pairing effusive concocted texts with illicitly scavenged mugshots.
I wonder if Christopher Hawkins and Jack McDade realise that their respective twins, Roy Kirkland and Robert Alston, have been oiling the PFS publicity machine for years. Is Kent University's Shane Hudson aware that his doppelgänger, Milton Carr, has "hundred of hours in PC-based 777 simulators" and thinks ProFlightSim is "top notch"? Has Ronald "Scenery and clouds looks super realistic" Duke ever run into Dan "chilling on the couch" Freeman at a GettyImages stubble growers convention? We may never know for sure.
My favorite PFS customer is a restless soul by the name of Andy Hatfield. Hailing originally from Newton, Iowa, he's the kind of dynamic grasp-Life-with-both-hands type that it's impossible not to warm to. During the past few years the ProFlightSimulator-loving Andy has changed name and country several times and explored countless different career paths. After 15 years as an IT consultant, he tried sports scouting in Austria and road repairing in Australia. Sadly, a subsequent spell as a sky diver in France was curtailed by work-related health issues. Moving to Bulgaria, he then retrained as a doctor, a move that ultimately led to his present gig...
With a chap like Andy/Jon/Jacob/Richard/David/Jean Pierre/Ralph/Ramesh praising it, it's little wonder PFS is "fast becoming the most popular flight simulator in the market". If only everyone driven solely by natural enthusiasm to salute the sim, inspired such confidence...
Dcaff3 is also a big fan of VirtualPilot3D. What a surprise.
Lead Programmer Dan Freeman might be able to wrap his head around a lift coefficient or parasitic drag equation with ease but when it comes to simple financial arithmetic his mathematical skills seem to desert him completely. In an attempt to make PFS's eyewatering $97 price tag seem a tad more attractive, the gougers bundle their old disguised version of FlightGear with four "time-limited bonuses", all of which, like FG, are available elsewhere for nothing. By my calculation $0 + $0 + $0 + $0 = $0 not $360.
Tellingly, PFS doesn't come with a warranty and its website doesn't boast a forum or news section. There's no evidence that the scammers have ever delivered their imminent 'major improvements' (One-click configuration of all major flight control hardware... VATSIM integration... "constant development of new aircraft and new sceneries") and if you purchase the sim then realise you've been ripped off, good luck getting your money back:
"Due to the digital nature of the software and to prevent any abuse, all sales are final. We do not have a return or refund policy."
Customers who decide, post purchase, that they want the 4-DVD edition in addition to the download, may be in for a bit of a shock. It turns out that the "nominal fee" mentioned on the front page is actually far from nominal.
The website text is so lousy with lies and distortions it would be tiresome to list all the examples of claptrap here. When the lovely people behind PFS aren't going out of their way to avoid mentions of FlightGear, the game they're actually selling, or squeezing the words 'real' or 'realistic' into their nauseating patter (86 uses) they are generally talking out of their tailplanes...
"Users and critics have called this the "next-generation" flight simulator"
"ProFlightSimulator™ is currently in beta testing stage all over participating flight schools worldwide."
"It is certified for commercial use and provides hardware and frame-rate checks required for FAA certification."
"There are current over 120+ aircraft to fly, MUCH MORE than what other simulators can offer."
"As seen or advertised in Flight Authority"
"We have a team of paid developers who are working full time to add new code and new ideas"
"Our launch price of $97.00 will not last forever."
"13000+ satisfied customers."
In the hard-to-find corner of the website that explains, unpersuasively, why PFS definitely isn't FlightGear, Dan and co. actually resort to misrepresenting and maligning the sim they are hijacking. With statements like "FG does not provide new updates very regularly", "open source products do not offer any support" and "no more fiddling with files" they paint a highly misleading picture of the labour-of-love they cynically parasitize.
Although FlightGear may not persuade you to put aside FSX or X-Plane permanently, it is approachable, kind to GPUs, aerodynamically sophisticated, pretty at times and packed with interesting flyables and great features (excellent weather modelling... clickable cockpits... integrated add-on downloading...)
Unlike the ghastly ProFlightSimulator, it's also regularly updated, backed by one of the friendliest sim communities around, and yours for an outlay of precisely nothing.
* * *