Don't Desert The Bus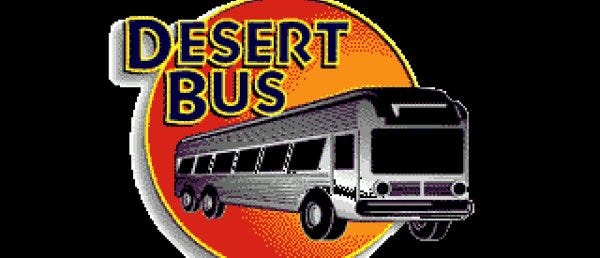 Apparently we're "always a little late to the party" about Desert Bus For Hope, the charity play-a-thon of Penn & Teller's notoriously and horrifically cruel/tedious driving sim. Sniff. Well, let's get it right this time. It kicks off in about nine hours, and the current plan is for five drivers to do a 24 hour shift each. Previously, shifts were four hours. So it's safe to say it's going to hurt this time around. Reeeeeeally hurt.

You can follow progress here, but clearly it's going to be a little on the unbelievably, Oh God make it stop boring side, so they're promising to spice it up with "live auctions, silent auctions, incredible prizes and a complete lack of self respect. We'll also be accepting challenges to do all manner of silly things (Songs, Dances, Poems, Readings, etc) in exchange for donations."
Yes - donations. That's the key, innit? Last year, the crazy-arsed scheme earned over $140,000 for the Child's Play charity. It's got $4,600 in the bag this year already, but clearly it needs moremoremore. So gogogo. These chaps are going to themselves through utter hell for your entertainment and any number of children's well-being. The least you could do is help. And the more you help, they more they will drive/suffer. Desert Bus footage below, in case somehow you've never heard of it.
Here's a trailer too:
And here's what Penn-minus-Teller had to say about the 2008 drive:
Oh, and you can also keep tabs on things via Twitter.