Doom 3: The Sourcening Approaches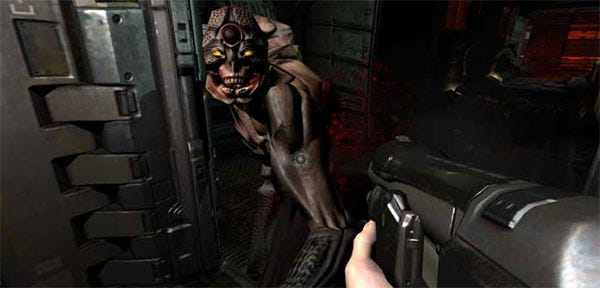 So on the ball is RPS that the first post even slightly related to spooky goings-on we've run this week comes a full day after Hallowe'en. That's just our shtick - spurning pagan festivals is what we do, as is being too lazy/non-cynical to compile 'TOP TEN SCARIEST NOSES IN VIDEOGAMES' posts to farm traffic.
Spooky this really isn't, but it does concern aged, ultra-darkened, infamous manshoot Doom 3, the long-awaited source code release for which is finally near. "DOOM 3 source is packaged and tested, we are waiting on final lawyer clearance for release," claimed id tech guru and lover of non-existent drivers John Carmack on the Twitters yesterday. So, in theory, an enormous amount of unfettered access to the still-power id Tech 4 could arrive in modders' and developers' hands any day now. I reckon some quite amazing indie/amateur stuff could be created off the back of it.