Doom's Open Beta Extended, Now Ending Tonight
Another day of fragging and damnation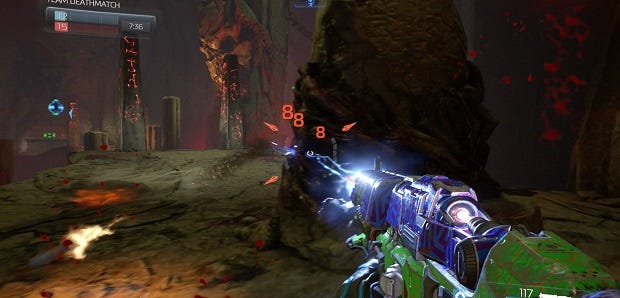 Hey, you, did you get around to playing the multiplayer open beta for Doom [official site] this week? If so, what did you make of it? (Our Adam was unwowed.) If not, hey, you still have the chance to, as the beta has been extended a bit. It was supposed to end last night, but will now end tonight. That's another few hours to frag faces.
The beta was slated to end at 11:59pm EST on Sunday - that was 4:59am today here in Blighty. A Doomy tweet says it'll now end at 11:59pm EST today, which is 4:59am on Tuesday for us, obvs. It contains a few maps and modes from the multiplayer side of id's latest Hellraiser.
Download it through Steam if you fancy a go.
I had intended to try the Doom beta, given that id Software shooters are what cemented my love of games, but ended up instead walking along miles of beach and sunning myself on rocks until it started to snow (spring in Scotland!). It's a simple mistake. Anyone could make it. After reading Adam's thoughts, it just sounded... unremarkable, and I didn't want to face that. Sez Adam:
"DOOM is in a strange situation. If it wasn't called DOOM, it wouldn't be receiving anywhere near the scrutiny and attention that it is. The cleverness of Warpath mode aside, the open beta doesn't suggest it'll have a great deal to offer in the way of either novelty or nostalgia. There are far worse multiplayer shooters to devote a few hours to but the demon gimmick, the weapons and the map design haven't thrilled me."
But maybe you had a different experience? Maybe you can stop me wandering another beach tonight? Do tell!