The International 2015: Ticket Sale Dates Announced
Coming Friday in two batches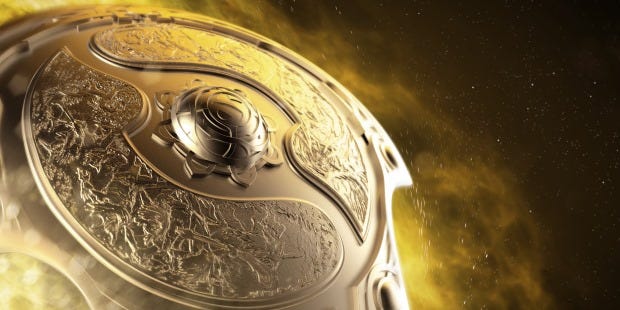 Valve have announced more information on The International 2015 which, assuming you've already clicked on that headline, surely needs no introduction.
We already knew Valve's Dota 2 tournament was being held between August 3rd and 8th in Seattle; now we know it's returning to KeyArena, last year's venue, and we also know when tickets are going on sale and how much they'll cost.
All tickets will be general admission, which will cost $99 and give you access to all six days of the main event, where the top 16 teams in the world will compete for the Aegis of Champions.

We are not directly selling VIP tickets this year, but stay tuned for details on the VIP experience.

Tickets will be made available through Ticketmaster at two separate times next Friday, March 27th.

The first batch of tickets will be sold at 10:00am PDT, and the last batch will be sold at 10:00pm PDT.

Not sure when that is in your time zone? Here's a list of times to help you get ready for when the tickets go on sale:

Seattle: March 27th at 10:00 and 22:00
Rio de Janeiro: March 27th at 14:00 and March 28th at 02:00
London: March 27th at 17:00 and March 28th at 05:00
Moscow: March 27th at 20:00 and March 28th at 08:00
Beijing: March 28th at 01:00 and 13:00
Seoul: March 28th at 02:00 and 14:00
Singapore: March 28th at 01:00 and 13:00
Sydney: March 28th at 04:00 and 16:00

Still unsure when tickets will go on sale in your area? Check out this handy time zone converter.
Copy pasting all that useful info seems like cheating, but what more is there to say? That's where and when The International is being held, how much it costs, what a ticket gets you and when you can buy them.
My own efforts to explore Dota 2 are proceeding, albeit slowly, so I'm certainly not at the level where attending an event like this is a realistic proposition (though if I had the money I'd do it just for the culture shock). Still, last year's streams included some commentary aimed at Dota newcomers, and if that's something that Valve build on this year I'd love to watch the competition remotely. The day I pick a team and root for them throughout a competition will be the day I know esports have found a place in my life.
For more RPS coverage of Dota itself, check out Pip's ongoing Dote Night series, or if you're a newcomer like me then Alec's Can't Dote, Will Dote is an encouraging and honest read.