Dota 2: The International 2015 Cheat Sheet
We're at the show! Here's everything you need to know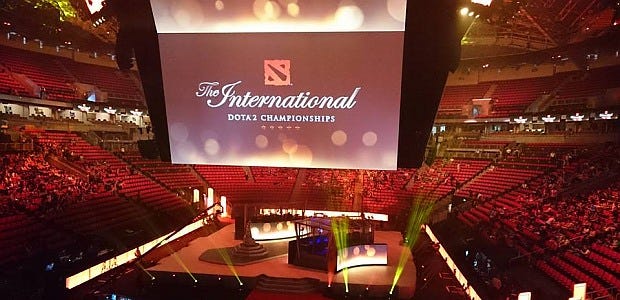 With over $17.5 million on the line Valve's fifth annual Dota 2 [official site] competition, The International, is the biggest eSports event yet in terms of prize pool. It's also the last International before the company makes some big structural changes to the Dota 2 competitive scene. I suspect next year's event will feel substantially different so I'm hoping this year's games are an end-of-an-era mic drop as monstrous and impressive as the prize pool itself.
Here's a cheat sheet with all the basic info about the tournament:
What:
The International is the big annual Dota 2 tournament run by Valve. It started life as an event at GamesCom in 2011. At the time it made waves by offering $1m to the winning team as well as being the first chance the public had to get a look at the game. Valve actually made a movie following three of the competitors from that first contest which it debuted at TI3:
In 2012 it became a standalone event and took place in Benaroya Hall - a 2,500 capacity venue in Seattle near Valve's headquarters. In 2013 the company introduced the Compendium, a kind of digital booklet which let you collect player cards, earn items, make predictions and so on. 25% of the revenue from Compendium sales was added to the prize pool as a community contribution. That year the Compendium added an extra $1.2m to the pool.
By 2014 The International had outgrown Benaroya and moved to the far bigger (like, seven times the capacity) KeyArena. The Compendium became an annual tradition and served to boost the basic prize pool from $1.6m to a staggering $10.9m. This year's Compendium boost is yet to be finalised as sales are ongoing but, as I said earlier, the total right now is $17.5m.
Where:
Valve are sticking with the same venue as last year: KeyArena in Seattle, Washington.
After last year's contest concluded I was wondering whether the company might consider taking it elsewhere in the States (or possibly even another continent, as League of Legends does with Worlds) but The International is very much a hands-on effort for Valve staff, with many working on aspects of the show both before, during and after. Moving out of Seattle would obviously affect that.
Going back to the structural changes I mentioned earlier, Valve are switching to a four tournament structure with three Valve-sponsored events hosted by third-parties at locations around the world as well as Valve's own The International. There are no further details on that front yet but I'd imagine those changes allow them to create a geographic compromise, making it easier for fans based elsewhere to attend pro Dota events but keeping The International on Valve's home turf.
Currently, if you aren't going in person there are either pubstomps where you can go to a bar and watch with fellow fans or there are streams on Twitch, Youtube or the game client if you'd prefer to be at home. I'm a big fan of starting a group call, ordering a pizza and then watching the games while doing commentary and chat with friends. It also means I can rewatch episodes of Police Squad! in the gaps between matches.
Who:
In alphabetical order the sixteen qualifying teams are:
CDEC Gaming
Cloud9
compLexity Gaming
EHOME
Evil Geniuses
Fnatic
Invictus Gaming
LGD Gaming
MVP.Hot6ix
MVP.Phoenix
Natus Vincere
Newbee
Team Empire
Team Secret
Vici Gaming
Virtus Pro
Three of the previous International winners are represented - Na'Vi (TI1), Invictus Gaming (TI2) and Newbee (TI4) - albeit with slightly altered lineups. TI3's winners Alliance were eliminated during the european qualifiers.
Korean team MVP.Phoenix and China's CDEC are the two wildcard qualifiers, while Archon (formerly North American Rejects version 2, formerly Na'Vi.US, formerly North American Rejects) and Vega Squadron were sent packing.
Going into the competition I'd say Team Secret are the ones to beat, with Evil Geniuses and Vici snapping at their heels. When I was trying to make my predictions I put EG in the silver medal spot and Vici in bronze before spending the rest of the evening swapping them back and forth. Currently I have Vici in second and OH GOD GOD I NEED TO STOP FIDDLING WITH THIS CHART.
When:
3-8 August
Well, sort of. Those are the dates for the main event. The group stages start today (27 July) at 9am Pacific, 5pm UK time. There were also the wildcard matches which took place yesterday and determined the final two teams to make it into the competition proper.
The group stages continue until Thursday (30 July) and then there's a three day break while the teams prepare for the games on the main stage at KeyArena.
Why is everyone being so mean to that disco goat dude?
You mean Leshrac? He's an incredibly strong hero this patch so you ban him or you risk giving the other team a powerful weapon in the shape of a goat who brings his own light show. That's why he's getting banned from the party so much. I think Vega managed to pick him up in their last match against Archon as a support - alas I was watching the other wildcard bracket at the time. But yes, expect very few disco goat appearances.