The International 2017: Your guide to the biggest tournament in professional Dota 2!
Everything you need to know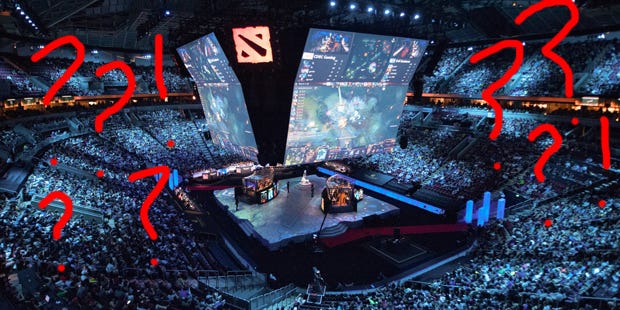 The International, Dota 2's biggest competitive event (as well as esports' most moneyed), returns to Seattle this week. This is the culmination of Dota's year-long season schedule – all of it, all the Majors, third-party tournaments and rosters shuffles, have led to this 18-way showdown where over $23 million is up for grabs. Here's our James to explain what you're watching and give you crucial backstory for all of the teams!
The excitement of this year's TI is tinged with a hint of bittersweet. It's the first time that the current world champions – in this case, Wings Gaming – won't be there to defend the title, having disbanded in the Spring with none of the individual players managing to qualify with their new teams. Wings aren't the only notable no-shows, either; TI6 runners-up Digital Chaos, now rebranded as Thunderbirds, didn't qualify either, making this the first TI without captain Rasmus "MiSeRy" Filipsen in attendance. The same goes for Na'Vi's Danil "Dendi" Ishutin, Faceless' Daryl "iceiceice" Pei Xiang, Vici Gaming's Chen "Hao" Zhihao and Newbee Boss's Zhang "xiao8" Ning.
Absent friends aside, who is actually playing this year? Well, we have 18 squads (six direct invites and 12 regional qualifier victors) from all over the world set to start group stage matches on August 2nd before moving to the main event at Seattle's Key Arena on the 7th.
The Teams
OG (I'm still refusing to call them OG Red Bull, sorry) have an exceptional record in Valve's Major tournaments, winning all but one of them since inception, but their previous roster's shock early exit from TI6 is impossible to forget. The current lineup has the combination of individual skill and team-wide synergy needed to win it all, but they'll need to overcome both the pressure of expectation and the likelihood of other teams prioritising them as a threat. Watch out for Jesse "JerAx" Vainikka, one of Dota's highest-impact support players, along the way.
Virtus.pro, the only direct invite from the CIS region, proved their worth with a second-place finish at the Kiev Major and have been performing well ever since. Their most recent LAN win – at The Summit 7 in June – might have been a bit short on other top-tier teams as competition, but with Vladimir "No[o]ne" Minenko's reliable midlaning and Ilya "lil" Ilyuk's unconventional support picks, they could go just as far in Seattle.
Evil Geniuses are a very different team to the lineup that won TI5, but North America's best team have been performing just as consistently under Andreas "Cr1t-" Nielsen's captainship, and will be looking to break a streak of third places at Valve events. Saahil "UNiVeRsE" Arora and Sumail "SumaiL" Hassan are also one of a surprisingly small number of players in attendance with a chance to become two-time International champions.
Team Liquid, a multinational squad led by veteran Kuro "KuroKy" Salehi Takhasomi, are going into TI7 with one of the better 2017 records, scoring three LAN wins in the past three months. Most eyes will be on superstar mid Amer "Miracle-" Al-Barkawi, but relative newcomer Maroun "GH" Merhej has shown himself to be just as integral on support.
Invictus Gaming are a funny one – they've done well enough this season to earn a direct invite, but their most recent tournament appearances have been middling. Just a few months ago they were dominating both in China and internationally, and will need to find that form again to win big at TI7.
Newbee were quick to fill iG's power vacuum in the Chinese scene, and go into TI7 with Seattle with the momentum of multiple podium placements on LAN. This roster (which has no players in common with the TI4-winning team) flopped at the two most recent Majors, but there's still a good chance that third time will be the charm.
Team Secret has perhaps the most tumultuous history of any in this tournament, but following the addition of Yazied "Yapz0r" Jaradat as the playmaking support, their actual calibre of play has improved dramatically. They won the European qualifier quite handily, and despite a lack of LAN success, could feasibly make a decent run.
Hellraisers, AKA the recently picked-up indie team Planet Dog, were the surprise second winners of the European qualifier. They're arguably best known for falling out with their previous organisation, Prodota Gaming, but have a respectable record in minor tournaments that could ensure they're not the easy win that more established teams might expect.
Team Empire haven't appeared at a Valve event since last year's Manila Major, and yet here they (or at least, a different roster under the same banner) are. Victors of the CIS regional qualifier, this latest iteration of Empire will be taking up their first big chance to show what they can do against truly elite competition.
TNC Pro Team, seemingly refreshed by the arrival of Theeban "1437" Siva on support, took advantage of a faltering Team Faceless to claim one of three Southeast Asia qualifier spots, along with Fnatic and Execration. Last year, a similar roster delivered the biggest upset of TI6 by knocking out OG in the lower bracket – we'll have to see if they can defy expectations once again.
Fnatic are another potential dark horse. They've yet to find the international success of previous rosters, but should at least be entertaining to watch, not least because of Kim "QO" Seon-yeop and Kim "Febby" Yong-min, previously seen in a thrillingly explosive MVP: Phoenix squad.
Execration probably has the toughest task ahead of them at TI7. Comprised of relative unknowns (outside their native Philippines), Execration just scraped their way in after a qualifier tiebreaker with the higher-achieving Team Faceless – though, credit where it's due, they did win, both against Faceless and in the open qualifiers which they needed to enter the regionals in the first place.
iG Vitality doesn't have the stature or record of their sister squad, Invictus Gaming. What they do have is Zhang "Paparazi灬" Chengjun, one of China's most exciting carries, and Yang "InJuly" Xiaodong, a young captain-offlaner who led his team to a convincing first place in the TI7 regional qualifiers.
LGD.Forever Young took the China qualifier's second spot. Despite the name which suggests less experience than the sister team of LGD Gaming, LFY has one of Dota 2's oldest veterans in Leong "DDC" Fat-meng, who will have made it to all seven Internationals – though carry player Du "Monet" Peng more often ends up being the one to watch.
LGD Gaming, the third and final team to go through China's regional qualifier, bounced back from failing to reach the Kiev Major to taking gold at the Mars Dota 2 League 2017 LAN in early July. Having proven that they can beat top teams like OG and Newbee in the process, LGD might not be hot favourites but could be a surprise top 3.
Cloud9 (formerly Team NP) is one of the more popular TI7 teams, even without any LAN wins on record. Known for crazy plays and agonising mistakes, Cloud9's matches are almost always worth watching, whether or not they can actually triumph over less volatile lineups.
Digital Chaos is not the Digital Chaos that earned a shock second place at TI6; this is an entirely different roster, a mix of North American and Southeast Asian veterans as well as Abed "Abed" Azel L Yusop, their teenaged, Meepo-picking trump card from the Philippines. By any measure, an appearance in the grand finals is unlikely... but then then that's what everyone said about the old DC, too.
Infamous, a rare all-Peruvian squad, round out the TI7 lineup. As winners of the South America qualifier, they're a young team from an oft-discounted region, but midlaner Enzo "Timado" Gianoli" has already shown his potential as a SumaiL-esque prodigy with multiple high-kills, low-deaths performances as recently as the qualifiers themselves.
How to watch
The group stages get underway tomorrow, August 2nd. As per usual, you'll be able to watch both this and the main event (which starts on August 7th) either in-game or on Twitch. The main event will also be served by the returning Newcomer Stream, which will include "contextual overlays" to help unfamiliar viewers understand what the blazes is going on. Alternatively, they COULD always go to Rock Paper Shotgun dot com and read this guide to watching pro Dota 2, but hey.
Either way, it should be a good one – the pro scene is competitive enough that one-sided stomps will, at most, likely be confined to the group stage and maybe a few lower bracket games. Dota 2's metagame is also pleasantly diverse at the moment, with multiple viable strategies and scope for heroes to be utilised in unconventional ways. That's not to say there aren't flavour-of-the-month heroes – Sand King, Night Stalker and Earthshaker are prime pick/ban material, for instance – but don't be surprised to see offbeat picks either, especially in the support role.
TI7 will also herald a big change in how Valve runs the esports side of Dota, what with the planned move from the current Majors system to the more CS:GO-like series of Majors and Minors taking effect next season. Thankfully, that doesn't mean this will be the last International, but here's hoping it's still one for the history books.