Possible Futures: Dota 2's VR Spectator Mode
voyeurs of ancient destruction (as beauty)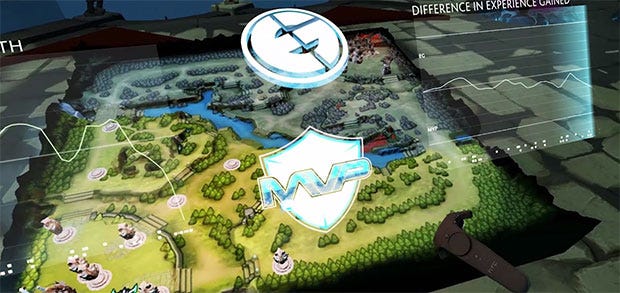 After a few weeks with the Vive, I'm increasingly concerned that VR isn't yet ready to support full-fat games; smaller-but-broader experiences yes, but a combination of resolution and performance woes hamstrings big huge things. Those concerns are lessened when it comes to watching stuff though. It's great for that. Makes a good movie-viewer, does a VR headset, and stuff like TheBlu, wherein you're a wandering spectator in a wonderland, remains glorious. And so this glimpse of a proposed VR spectator mode for Dota 2 [official site] has me nodding enthusiastically. Yes, this stuff will work. Interactive watching might just be the more likely near-future of this stuff.
The Dota 2 stuff arrives towards the end of the chest-thumping Vive video below*. It's not just watching the game: it's controlling how you watch, it's being inside the world of the game as you do, and it's going to places that TV sports presentation cannot.
No details on when it will happen, but given how big the Vive push is right now, hopefully it won't be long.
*I haven't had a lot of luck with the Desktop Theater mode that is the video's main focus yet, but I'll check in again soon to see how updates have helped