DotAbsolution: See Sins Of A Dark Age In Motion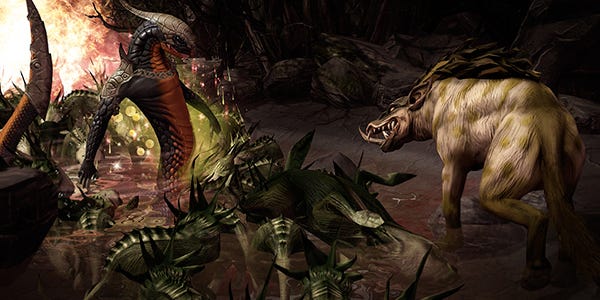 Swapping deep space for fantasy, Sins Of A Solar Empire creators Ironclad Games have released some game and talky-head footage of their upcoming MOBA Sins Of A Dark Age - the main sins being wrath, greed, and - no doubt the most hated by its players - sloth.
It's hoping to be a bit more dynamic than most, using its Realm Quests system to keep shaking things up, but don't take my word for that. Here's the game director himself showing off some of that 'gameplay' stuff that's been quite popular lately. There will be clicking.
So, that's that then. I'm really not a MOBA player, so correct me if I'm wrong, but I'm not seeing much there to rip players away from the likes of Dota - especially if the Realm Questing adds too much randomness to the game. If you've yet to dip in, does any of this look like something that will finally ignite that passion? How many of these games can the market support?
I suppose the same could be said for all genres though, and it's not like we're short on shooters or third-person action adventure games that look about the same from a distance. Still, I can't help but wince whenever there's talk of moving the genre it to the next level. The current one seems quite intimidating enough for me, without having to go get a stepladder.
Sins Of A Dark Age is currently in closed beta. Founders Editions are on sale if you want to buy access, along with a few heroes to get started with, some in-game funbucks, and a somewhat arguable definition of the words 'Best Value'. The final, finished game will obviously be free to play, with the current release date simply promising "When It's Done".