Dragon Ball FighterZ coming from BlazBlue devs
Many colours and explosions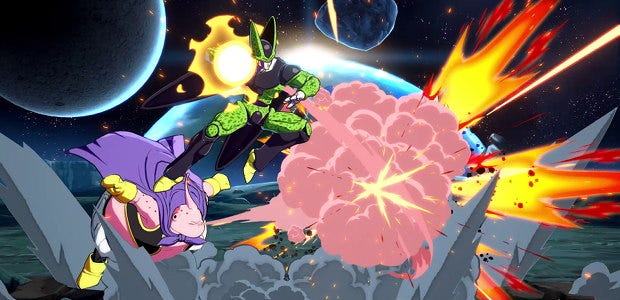 Dragon Ball, the anime/manga which launched a thousand AOL screen names, is becoming a new fighting game made by Arc System Works. I've not been interested in the many Dragon Ball games Bandai Namco have made before, but their decision to draft Arc to make Dragon Ball FighterZ [official site] has me interested. Arc are the studio behind BlazBlue, Guilty Gear, Persona 4 Arena, and other respectable face-punchers, y'see. The 3v3 fighting game's announcement trailer includes a great many explosions, including a handblast so powerful it zaps out into space. I'm certainly onboard with colours and lights and shouting. Here, have a look yourself:
Thanks to the weird cultural osmosis of the Internet, I know who half of those people are and which moves they're doing even though I have never watched Dragon Ball. I also know that if I made an "Over 9000" joke I'd be duty-bound to jellify my own hands with a hammer.
Bandai Namco's announcement explains what's going on:
"Dragon Ball FighterZ gives fans of all skill levels the opportunity to feel like their favorite Dragon Ball character. Featuring 3 vs. 3 battle mechanics, new and seasoned players are sure to experience the epic scope of Dragon Ball as they select their three-character team to take into battle. The game also encourages players to train and master more than one fighter and style, delivering richer gameplay and motivation to take down the competition."
Dragon Ball FighterZ is coming in "early 2018" via Steam. Bamco's last Dragon Ball game sold well enough to pop into the top ten at launch, so I'd expect this to sell well over nine thousand copies.
Don't worry, I have my own hammer.