Draymond Green's Shut Up And Slam Jam Karate Basketball is exactly what it sounds like
Get dunked on!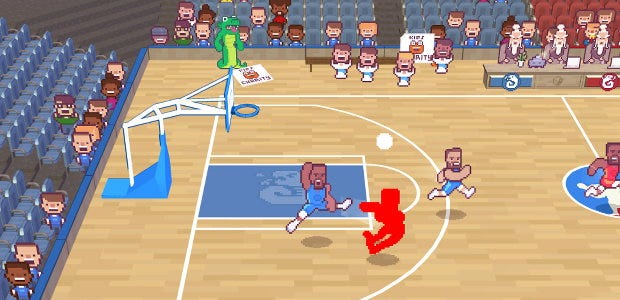 Grab your pals and plug in extra controllers to basketball and brawl in Draymond Green's Shut Up And Slam Jam Karate Basketball [Itch page], out now. It's a 2v2 arcade basketball game where, due to a mix-up, a karate demonstration and a charity basketball match are to take place on the same court at the same time. I'm sure you can manage to combine the two. While it does support AI bots, surely it'd be better to slam, junk, dunk, maim, and cripple with your chums?
That's it, really. 2v2 arcade basketball with a bit of brawling to swing the game. Kick, dodge, and batter with weapons. I've had a quick bash and yup, it's pretty fun. Cara has vanished off for three weeks so I was stuck playing on my tod. Bouncing solo. Dribbling all over myself. Letting my AI teamie do all the hard work.
When I posted about amazingly-named basketball brawler Dunk Lords, some of y'all got excited and raised an old b-ball-o-beating game I'd not heard of, Arch Rivals. I think Dunk Lords is more class-based and wacky than that old NES game, but Slam Jam Karate Basketball looks a lot closer to Arch Rivals from what I've seen. So Rivaleers might fancy a bash.
Slam Jam Karate Basketball is pay-what-you-want on Itch for Windows, Mac, and Linux. It's made by a team who call themselves Seadads, whose members include folks from Crawl developers Powerhoof and the makers of Crossy Road. They started it for the Ludum Dare 37 game jam and have polished it up a bit since.