Drive!Drive!Drive! Across Several Tracks At Once
I don't know what this is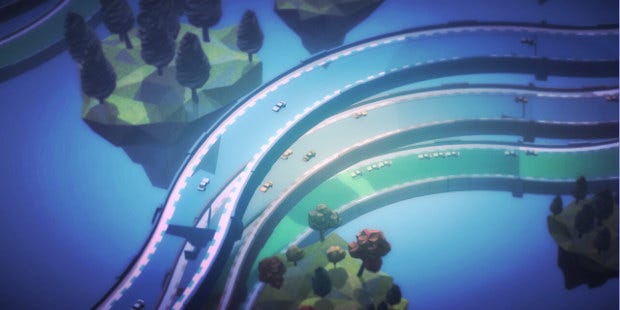 Drive!Drive!Drive! [official site] is "a driving game about racing multiple tracks at the same time," I am told. I'm into the idea, but don't know how that multiple tracks thing works. I've watched the pretty announcement trailer several times, but it only offers small hints. I even asked developers Different Cloth (some of the lot behind papercraft shark game Derrick the Deathfin), but founder Gordon Midwood only whispered something about switching then added "The starlings fly east" and thrice hooted like an owl. How very mysterious. Watch the trailer and see what you make of it.
Weird, isn't it? Puzzling. Pretty. Pleasant. And something I'd like to see more of. I might even like to, dare I say, play it. Different Cloth haven't announced a release date or even platforms, but I'll assume Gordon not warning me off is casual confirmation of a PC release. That, or proof he's a dastardly scoundrel. Time shall tell!
That music in the trailer's pretty nice too, isn't it? That'll be the smooth synthesised tones of American duo Zombi, whose album Surface to Air I listened to a lot back in the noughties. Don't confuse them with Zombie Zombie, the smooth synthesising French duo who've done a load of rad John Carpenter covers. I don't know, flipping zombies everywhere nowadays.