E3 2011 Booth Babe Babes Bonanza!
Sexual Objectification Special!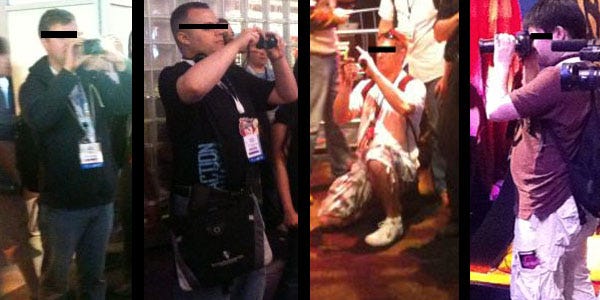 This year's E3 was packed with booth babe babes, making our time at the Los Angeles Convention Center one filled with titillation and excitement. We've collected together a gallery of the sexiest booth babe babes we saw as we made our way around, so you too can enjoy their camera-wielding hotness. Enjoy!
As you can see, we've had to cover up the eyes of these booth babe babes, because we believe they would be just too SEXY for you to handle otherwise.
First up is this gorgeous figure, delicately sporting a wad of white paper as he snaps away. You can put our wad under your arm any time!
Phwoar! We'd like to shine this dome any time.
Is that an extending telephoto lens? We can't wait to see it reach its full extension.
Hey, you see us? You LIKE US?
Who is this dark, mysterious stranger? He can slink in an leave Milk Tray in our rooms any time.
Hey cheeky! Spend a lot of time bent over like that?!
We'd like you to cup our "camera" just like that. We like a guy who can handle his large equipment so expertly.
Any time you want to flash for us, mister, you're very welcome.
Cor, what a gang. And hey, man in white, we can't wait for you to be on your knees in front of us!
There's nothing sexier than a man who leaves the advert in his show badge all week. Mmmmmmmmmm.
Ew, a girl? Gross.
We'd like to have both his straps across our shoulders.
You'd look even better posing next to us!
Mmmm, we'd like to listen to Greensleeves while you film us together.
Hey, you in the shades, thanks for saving us needing to add the black bar.
There's nothing we like better than a group of men taking all their shots at once.
RPS: STRAIGHT TO THE SEXY