EA to close Dead Space studio Visceral, in-development Star Wars game moving to Vancouver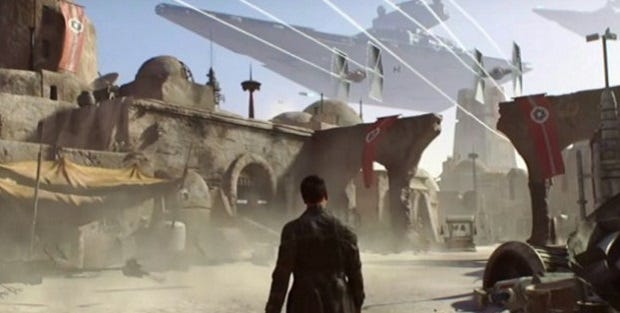 EA have just announced that they'll be "ramping down and closing" Visceral, the studio behind the Dead Space trilogy. Visceral have been working on an untitled Star Wars project, described as an "action-adventure", and Amy Hennig, formerly of Naughty Dog and Crystal Dynamics, moved to the studio in 2014 to work on that project as senior creative director. EA's statement regarding Visceral's closure suggests that they're unhappy with the status of that game and they plan to "pivot the design" to fit "fundamental shifts in the marketplace". Full statement and thoughts below.
Star Wars will be taken out of Visceral's hands while the studio winds down and will instead move to EA Worldwide Studios, led by a team from EA Vancouver. Here's the explanation, such as it is:
Our Visceral studio has been developing an action-adventure title set in the Star Wars universe. In its current form, it was shaping up to be a story-based, linear adventure game. Throughout the development process, we have been testing the game concept with players, listening to the feedback about what and how they want to play, and closely tracking fundamental shifts in the marketplace. It has become clear that to deliver an experience that players will want to come back to and enjoy for a long time to come, we needed to pivot the design. We will maintain the stunning visuals, authenticity in the Star Wars universe, and focus on bringing a Star Wars story to life. Importantly, we are shifting the game to be a broader experience that allows for more variety and player agency, leaning into the capabilities of our Frostbite engine and reimagining central elements of the game to give players a Star Wars adventure of greater depth and breadth to explore.
Maybe I'm just feeling a bit gloomy about big budget singleplayer games that don't fit a certain template given the worrying early word around Evil Within 2 sales (physical only, mind), but I hope that I'm translating this corp-speak incorrectly when I see "story-based" and "adventure" as the bad words here. The "broader experience" might well be a way of tackling the apparently "linear" nature of the Visceral game, adding more chances to build characters rather than watch characters, and to explore rather than to follow the signposts. But it might also mean big icon-strewn maps and a complete lack of character.
It's probably silly to speculate, especially given EA say the 2019 (fiscal year) release date has been abandoned and a new, presumably later, timeframe will be announced soon.
Farewell Visceral's Star Wars, we barely knew thee. In fact, we knew almost nothing about you. But we did know something about Visceral, a studio that made one of my favourite big budget series. Dead Space 3 might have lost its way, but that wasn't necessarily the fault of the developers as Eurogamer found out when they spoke to creative director Ben Wanat earlier this year. I'll always have fond memories of the horrors in the first two games though, and the extraordinary spaceship graveyard in the third.
EA say they'll be moving as many Visceral staff to new positions within EA and we wish the best to everyone affected.