Dreamers Of Dreams: Sentris Early Access
Of music and moonlight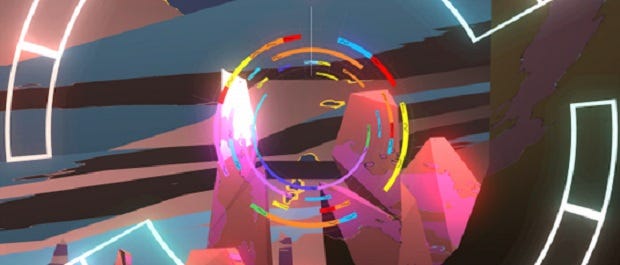 Do you remember a time when msuic games were so rugged and wild that they required the use of a tiny plastic guitar peripheral? I certainly do. Some people formed bands during their university years and frittered away precious hours creating melancholy joy, entertaining the tune-hungry populace of bee-soaked university bars. Other people - people like me - perfected I Wanna Be Sedated on Guitar Hero while jumping up and down on a bed with a cig in my mouth. Health and safety be damned, this was rock 'n' roll and I liked it.
Rhythm games have moved on since then and Sentris, launched into Early Access seconds ago, looks and sounds absolutely delicious. And you can play it while sitting comfortably at your desk.
The game was funded to the tune (ho ho) of $56,000 on Kickstarter and backers have been testing various iterations as preparations for launch were underway. The initial Early Access release is almost feature complete, although new puzzles, customisation options and instruments will be added, as will the ability to export the songs you create. But what is Sentris?
It transforms the act of making music into a puzzle of colorful concentric circles. It's a rhythmical challenge that enables personal musical expression.
A video explains all.
A video explains some, I should have said. The puzzle mechanics are fairly clear in the video though and if the connection between input and musical output is as impressive as in the video, Sentris could be a fine Friday night companion. I'd plunge into it myself but I'm busy tonight - nobody else is going to play that tiny plastic guitar.