Ecotone Is Very, Very Lovely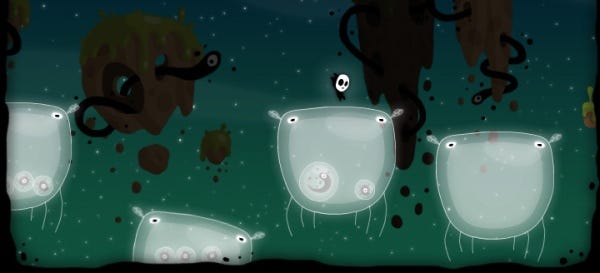 The route to a successful indie platformer these days is to come up with a unique gimmick, or a unique twist on an old gimmick, and do an incredibly good job of applying it to your world. Sundae Factory's Ecotone is a touch braver than that. It's taking every platforming gimmick, and using one per level. And from the demo version that's playable on their site, they're doing a damned good job of it.
I'm a sucker for a beautifully presented platformer, and there's no question that Ecotone fulfils that criteria. The cartoon graphics evoke just enough 2D Boy, just enough Windosill, with a lovely macabre twist. But on top of that, the ever-changing nature of how you play is what really hooked me in. At first I was intrigued by a game that had no jump button - just removing that mechanic had a significant effect on how the whole idea is approached. But then when one is introduced a couple of levels in, now you're dealing with an incoming wind that changes how you can move around. Then another character arrives, and you control both at once - you're having to negotiate two separate areas of platforms with intricately tricky jumps to keep both alive. And two levels later, that's gone too - now it's a race. And that's where the demo ends. But the concept is promised to continue for another 40 or so levels.
Obviously it's in the grimy mire of Greenlight, but you can play the first few levels right now - and you really should.