Edging Closer: The Journey Down Receives HD Remake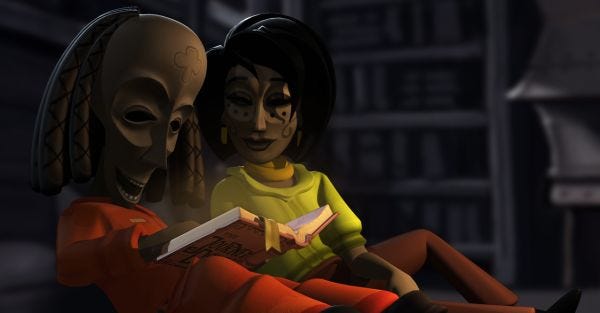 You may well remember the absolutely gorgeous The Journey Down: Over The Edge - a superb AGS adventure game by indie devs Skygoblin that not only surprised us with its splendid graphics, but also by being a point-and-clicker that really understood the genre. That was the first chapter in a series, and we've been looking forward to the second one for well over a year now. The bad news is, it's not coming yet. The good news is, the first part has been remade as a commercial game, with swishy new graphics, and apparently lots of new content. You can still play the original chapter for free, and you can see how the new version is shaping up below.
The peculiar conflation of African art and Jamaican voices/stereotypes remains, which is equally confusing, but gosh it looks lovely. The story, based around a gas station owner attempting to explore the forbidden area known as The Edge, is instantly engaging. It took them five years to make the first AGS chapter, but this remake seems to have come about more promptly, with its commerical release next month. You can find out lots more details about the development of the project at Skygoblin's blog.
Meanwhile, here's the rather lovely new trailer:
This is one to watch. The original AGS game really was rather ace, and more than deserves commercial success.