Eldritch fishing adventure Dredge delays The Iron Rig expansion to 2024, but it'll still be getting DLC this year
Stay hooked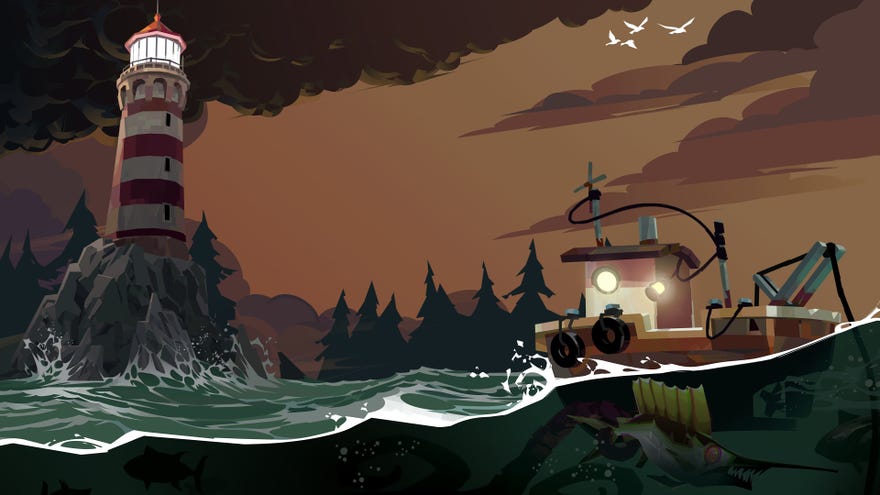 Dredge was one of this year's more surprising gems, an unexpectedly winning combination of spooky Lovecraftian atmosphere, open-world exploration and compelling fishing sim that lay somewhere on the ocean-wide spectrum between the chill management of Stardew Valley and the existential dread of Sunless Sea.
And, as any fisher knows (I assume), patience is key to landing something good. So it seems somewhat apt that Dredge developers Black Salt Games are willing to wait a little longer before hauling in the game's first big post-launch catch.
The studio announced that its first paid expansion for Dredge, The Iron Rig, has been pushed back into 2024 from its original launch window at the end of this year.
As revealed earlier this year, the DLC will focus on the mysterious and villainous Ironhaven Corporation hinted at during the base game, with players uncovering the company's plans to set up a drilling operation in the area as they gather materials to construct buildings and fuel their rig with biomatter.
We have some news to share. pic.twitter.com/HpJswW0RdJ

— Black Salt Games 🔜 #GCAP23 #PAXAUS (@BlackSaltGames) September 28, 2023
"Originally, we planned to spend a few months crafting this exciting addition and release it in Q4 this year," Black Salt wrote in a post announcing the delay on eX-Twitter. "However, as we progressed, we were faced with the reality that, given the time of the year, we'd need more lead time to coordinate our marketing and make the launch as exciting as it could be."
While The Iron Rig will slide back to 2024, Black Salt doesn't quite plan to let Dredge bob about in the meantime. In the place of the delayed expansion will be a different "exciting DLC" that will include "some additional content" for the game when it releases later this year.
"We understand that this isn't what we had originally promised but we hope you understand," the devs wrote, adding that further details - including a release date and price - would be revealed soon.
While The Iron Rig was planned as Dredge's first big DLC release, the game has received several free updates since its release back in March, adding a map marker feature requested by players, a photo mode - with new animals to snap like dolphins and whale sharks - and a gentler passive mode that stops creatures from attacking you so you can fish in peace.
Katharine was hooked by Dredge when she reviewed it on release, awarding it a Bestest Best and calling it "a special game" that "casts a wide net, but in the process catches the best and most accessible bits of survival horror, management and exploration games and serves them all up on a glowing, eldritch platter that's simply too good, and too moreish, to ignore". It's one of our favourite games of 2023 so far, too.