ELEX: Trailer & Details On Risen Dev's New Action RPG
Jetpacks and journeyfolk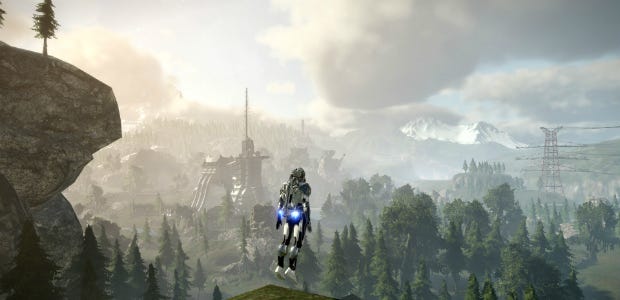 "Eclectic, Lavish, Exhilarating, Xenial", was how Risen and Gothic developers Piranha Bytes described their forthcoming post-apocalyptic open world RPG ELEX [official site] when they announced it last year. I reckon they were being purposefully tongue-in-cheek, but either way we didn't have all too much to go on back then beyond the initial idea.
Fast forward the better part of a year, and a website overhaul, a load of new info and a fresh "mood" trailer now offer us a better understanding of what it's all about. Observe:
Teaming up with Nordic Games this time round, ELEX looks every bit as ambitious as Piranha Bytes' previous projects and will see familiar fantasy fare clash with science fiction in a world rebuilding itself following a meteor collision. In practice this means the chance to wield swords, bows, axes, shotguns, harpoons, flamethrowers AND plasma rifles and magic and the likes.
It also means touring five freely explorable open world regions from the off by land or by jetpack (yes!), as you level up minus the restrictions of a traditional class system. Which will sound familiar if you've played the Risen and/or Gothic games. Here's the word from Piranha on that:
"Find a companion, choose a faction and influence the world. In Elex there is no traditional class system. Instead you must earn the trust of experienced teachers to develop the skills you select. But, skills alone won't be enough to survive in this harsh and challenging world.

"Your attitude towards the people you meet will influence those around you. Will you make an ally or an enemy? Is now the time to show emotion or take the course of logic? Every choice will forge the future of your game."
For more information on the game's lore and setting, head on over to the ELEX site. There's no release date just yet, however that might change in the not-so-distant future with E3 just around the corner.