First-Person Platformer: Free Wait 'Em Up Endless Express
Alice done made a video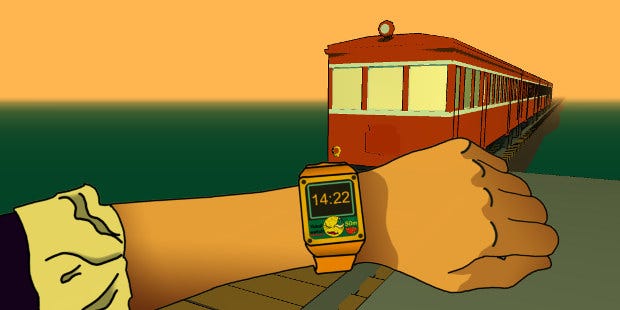 Writing about Train Simulator's pretty Japanese countryside DLC yesterday reminded me: I forgot to post Endless Express last year. It's a free game about a convoluted train journey through a magical world to get home, consulting timetables and planning changes to catch the right trains. Routes run to a schedule in real time so you will end up waiting a bit, which is grand as it's time to poke around each station and see the weird scenery and locals. Here, I made a video to show you.
For people who prefer words: Endless Express plonks us on a platform with only a timetable and a watch (raised by clicking) to guide us home. We travel from the mountains to the sea to a swamp and onwards, changing trains and hopefully not catching the wrong one. They run in semi-real-time, arriving at set minutes past the actual-real-hour. This tends to give a few minutes to poke around each station and see what's going on, exploring the strange scenery and meeting the odd locals. It follows the real-world day cycle too; I like dusk the best.
It's quite charming, with bubbly music and a mix of low-poly untextured 3D scenery and cartoonish hand-drawn sprites. It all makes for an unreal and magical world.
Endless Express was made by Florian Veltman, Alexandre Taillefert, Felix Meunier, and Martin Grugger during 7 Day FPS last November, which is when I meant to post about it. Better late than never! It's a free download or playable in your browser over here.