What happened when we ran England - Croatia through Football Manager 2018 ten times
Solving football with 'science'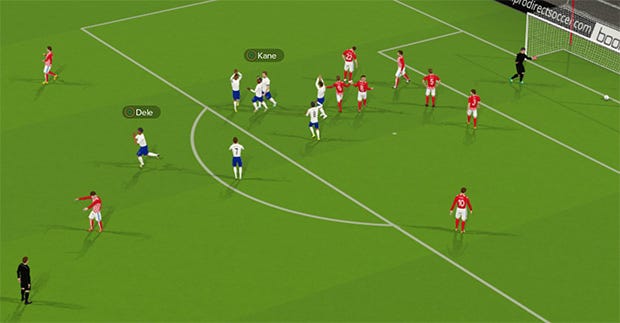 Tomorrow heralds the most heart-stopping moment in English national football since John Barnes bravely claimed to know how to rap. England face Croatia in the World Cup semi-final; if they win, they make the finals. If they lose, nobody sings that Lightning Seeds song for at least another two years. It's win-win!
But which will it be? The answer lies in science. Or the closest approximation thereof, which is simulating the match in Football Manager 2018 ten times and seeing what the most common outcome is. Computer, come home.

Football Manager 2018 really exists to simulate seasons and careers, not specific matches. So the England-Croatia match I arranged was not the semi-final of the 2018 World Cup in Russia during a July heatwave, but rather a friendly in March 2018 on Croatian home turf. This was, however, an England team composed of the exact members and formation used by Gareth Southgate's surprisingly successful side over the past few weeks. I'd played a few games with them already, including guiding them to World Cup qualification after decisive wins against Scotland and Slovakia. And, though this was a friendly, my terrifying Southgate-o-tron had told his squad this match was of upmost importance. Morale was high, team cohesion was high, appetite was high.
Fan mod Real World Cup 2018 ensured the starting group stages had the correct teams, but doesn't simulate the exact line-ups. As such, I had to painstakingly recreate the Southgate side myself, as FM2018's best guess bore a closer resemblance to the doomed Euro 16 squad. Several now-big names, such as Maguire, Trippier and Young, barely seemed to exist in the game, let alone had been put forward for the national squad, while my staff all but mocked me for fielding Kyle Walker or making Harry Kane captain. And poor Ruben Loftus-Cheek, who we've repeatedly seen come off the subs bench in this cup, didn't even merit a descriptive title for his role and abilities - the game labels him only as 'player.'
Time and again, in-game journalists questioned why in God's name I would use these men, or my assistants would beg me to field folk who, in reality, never boarded the plane to Russia. No, Jack Wilshere, no. If games could laugh at humans, this one would have done.
This relentless mocking overcome, for each of the ten games I used the same squad, the same 3-3-2-2 formation favoured by Southgate and I'd bring on Vardy and Loftus-Cheek in exchange for Raheem Sterling and Jordan Henderson around the 60th minute. Additional substitutions would be made as required by injury or fatigue. I'd switch from Standard tactics to Control or Counter depending on how hard Croatia hit out the gates, with more instructions called as the match demanded.
Unfortunately, one thing I could not do was specify who was in the Croatian squad, so only six of their team matched who England are likely to face tomorrow. But science must abide through imperfect conditions, right?
Onto the results. You might want to sit down.
Croatia 2 - 4 England
Croatia 3 - 3 England
Croatia 4 - 2 England
Croatia 4 - 2 England
Croatia 3 - 1 England
Croatia 5 - 2 England
Croatia 2 - 1 England
Croatia 4 - 0 England
Croatia 0 - 2 England
Croatia 2 - 2 England
Wuh-oh.
To summarise:
Croatia won 6 games out of 10, England won 2, and 2 were a draw. I didn't simulate penalties because that felt like a chaos factor too many, but: according to Football Manager 2018, in four out of ten games England either win or go all the way to penalties. Not bad, right? But, according to Football Manager 2018, Croatia are more likely to win. As such, please expect The Sun and The Daily Mail to call for the immediate banning of Football Manager.
Also, there was this one:
Is it coming home? Maybe.