Everspace: Galaxy On Fire Creators Tackle Space Porn
Zap zap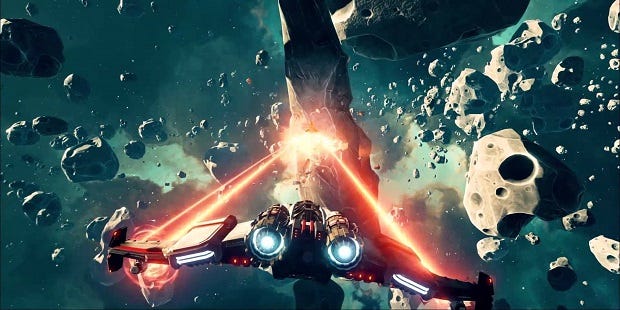 Our brothers in the land of mobile gaming might recognise the name Galaxy of Fire – it's an old dog, at least in the context of iOS: A space-em-up dogfighting series from the mid-Noughts. Now some of GoF's original creators are now back together, this time as a new little studio called Rockfish, and are expanding on the themes of their old series in a PC release called Everspace.
This is, in essence, an ode to space porn on a grand scale. Describing it as a "3D space shooter with rogue-like elements and non-linear storytelling," Rockfish are looking to carve a niche somewhere outside the Star Citizens and Elite: Dangerouses that it shares a genetic similarity to. Perhaps the biggest thing to take away from its Kickstarter campaign is this 'graph:
"There are fantastic and vast space sims out there featuring super realistic space physics and billions of stars to travel to. But we believe that combining easy-to-pick-up gameplay with AAA-quality graphics and sound with a captivating, non-linear story is something that many of you have still been waiting for."
Everspace is a pick-up-and-play/arcadey offering, so don't expect extreme physics simulation or thoughtful conversations about space-chair realism. Instead, it's sexy as all hell. That kind of vanity gets you far in life considering the studio is going to be bringing this to VR as well as PC. See for yourself with this 10-minute gameplay trailer:
"In order to leave the system and jump to the next one, you will need to gather enough fuel to power up the jump drive and at the same time collect credits and resources to craft items and upgrade your ship," says its makers.
"The mix of persistent progression (blueprints and personal wealth) and temporary progression (crafting and equipping your ship during a run) combined with an ever-changing universe and a rewarding story will make you want to start over again and again to eventually reach your final destination."
Rockfish are looking at October 2016 to launch Everspace, and are currently a few weeks into their Kickstarter funding. The team have a funding goal of €225,000, and are over halfway there as I write this. (For our Amerifriends with translatlantic brains, that translates to roughly $209k of $258k.)