'Every Decision You Make Is An Abomination'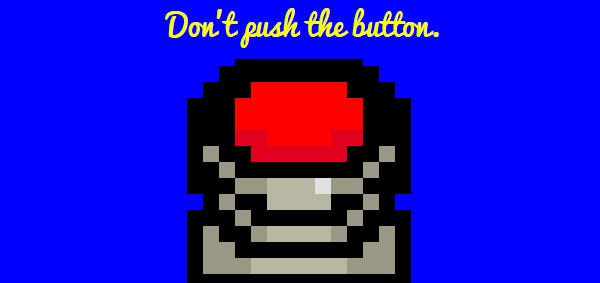 I'm in one of those moods. You know the sort, when anything other than expressions of total contempt for existence will appeal. No, I don't want to play a jolly platform game with its jolly jumping puzzles. No, I don't want dreamy music and pastel shades. No, I don't want a noisy trailer noisily promising noisy viscerality. I just want something that says 'hey, all of this is totally ridiculous and it's OK to laugh/sneer at it.' Button Roulette is very much the ticket.
Don't push the button. But push it, obviously.

Go on, push it. Stop reading this and go and do something self-destructive instead.
Did you push it? Did you? Well done. Now you understand.
I've spent an unhealthy amount of time pushing the button and enjoying the random dark fate which results. Boy, will I look like a putz if it turns out it's actually wired to some death-machine on the other side of the world! Sorry, all those people I accidentally killed/gassed/sentenced to a lifetime of unending jury duty, but if it's any consolation you have helped me achieve some small measure of existential catharsis today.
Button Roulette, by Lana Polansky, via FreeIndieGam.es.