Everyone Wants To Have FUN: Cargo!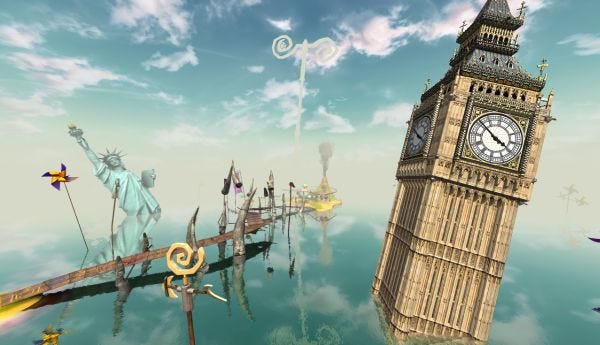 Last year we heard that Ice Pick Lodge - they behind the extraordinary Pathologic and The Void - are working on a new game, Cargo! (Exclamation their own.) As Kieron noted last time, it's hard not to see this bright, colourful project as a satirical response to the criticism their previous dark, barely-fathomable games have received. Described as being an "absurd comedy with musical numbers and dancing", it's already hard not to think this could be one of the more interesting games of the year, appearing in perhaps just a few weeks. And finally we've got lots of screenshots of it to get an idea just quite how strange this potentially subversive peculiarity is.
The world is drifting apart. Literally. Chunks of land are floating off into the sky. But there's one thing that can bring it all back together, a recently discovered concentrated source of happiness that can return weight to items - FUN. They go on to explain,
"The source of FUN is suddenly discovered on a mysterious archipelago. Two reckless smugglers head there with a cargo of priceless machine parts that by miracle retained their weight, to trade them for FUN.

The Archipelago was created as a base for a new world after the Gods decided that the human race should be replaced after the human egoism led the planet to collapse. The Gods main task now is to inject more happiness into the world!

Since then however, the gods' skills have become out dated, their calculations were misguided and their goals have became unclear. They wanted the world to be held together with happiness - but forgot about FUN!"
It's not exactly subtle, is it? But rather clever. You're tasked with being the hero who restores order, by building contraptions from the junkyards around the world. And this is what it looks like: