Conquist No More - Expeditions: Viking Announced
Break out the mead!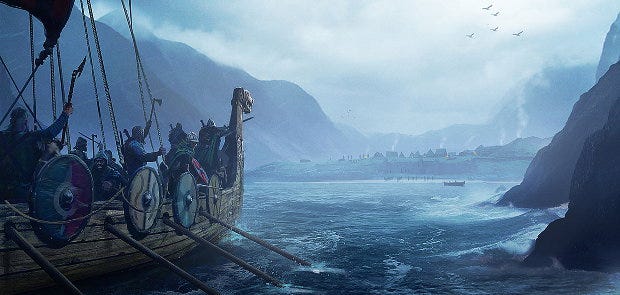 2013's Expeditions: Conquistador was an interesting idea, an expedition into the New World mixing exploration, party management, RPG bits, and turn-based combat. It was pretty fun, our Adam thought, but had a fair few problems too. Now developers Logic Arts have returned to announce another voyage, or more a series of raids.
Expeditions: Viking [Facebook page] will see that beardy lot cruising for a bruising and perusing for a pillaging, trying to lead a clan into a bright future.
This time around, your gang are centred on a home village they'll launch from and return to between expeditions. I say "expeditions" because it's not all pillaging - you can be nice and trade if you'd like. You'll need to build up your village and maybe protect it from would-be pillagers, mind. Also new since Conquistador is your character being an actual avatar in the world during travel and combat. Those two layers of play are rolled into one now too, with free exploration transitioning into combat when fisticuffs start.
Here's how Adam summed up his Wot I Think of the original Conquistador:
"Expeditions: Conquistador is far more than a reskinned King's Bounty, exploring a historical moment with confidence and skill. The combat system is effective and while some aspects of management become a chore, the focus on stories and characters means that there is almost always at least one interesting plot on the boil. The maps will be the same if I play again, so I doubt I'll revisit but if there are more Expeditions to come, I'll certainly pack a bedroll and hop on board."
Better pack your Sou'wester too, young Adam.