Explore Every Corner Of The Universe: Planets³
The world is flat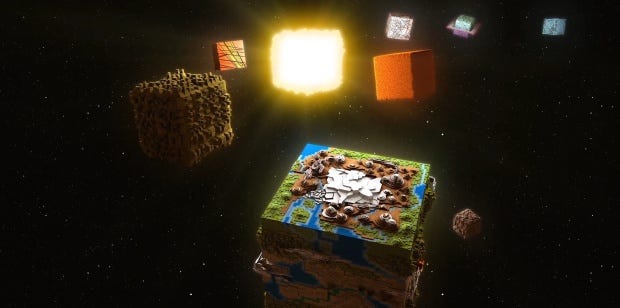 It probably seemed a good idea at the time to call a game about cube-shaped planets, Planets³. Before realising that this was the internet, and people weren't going to open Character Map every time they wanted to search for your game. So Planets3, as even developers Cubical (³ical?) are calling it now, perhaps isn't going to win any SEO awards. But it might pick up a couple for cuteness. This is a voxel-based universe explorer, in which you fly your spaceship from planet to planet, beating up monsters, gathering tools, building houses and vehicles, and generally being very busy with stuff.
Oddly enough, despite the word "cube" appearing throughout like a plague, this isn't a straight Minecraft-a-like. The planets themselves aren't formed of cubes, but rather voxelly slops and triangles. Okay, it still looks a lot like Minecraft, just a lot smoother. But still, spaceships, multiple planets, etc.
You can get an idea of the crafting hopes in a couple of the screenshots. Here are some "vehicules":
And this appears to be a weapon crafting moment:
It's still in early development - so much so that there's not even a Greenlight page yet! I didn't even know that could be a thing. There is, of course, a Kickstarter coming soon.
Also, if they don't copy "Explore every corner of the universe" as their strapline, then the game will flop. Fact.