Explore-o: Aquatic Adventure Of The Last Human Demo
Under the sea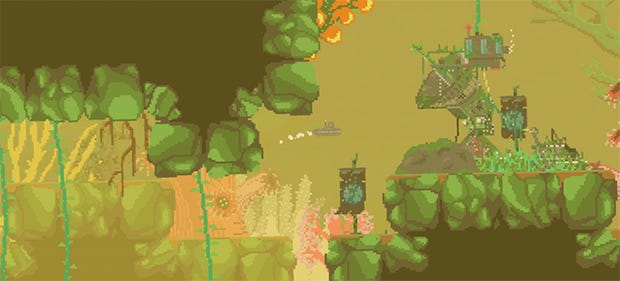 I'm a sucker for self-proclaimed Metroid-vanias, especially ones with a nice pixel art, so The Aquatic Adventure of the Last Human [official site] is totally up my street [I'd meant to post about it sooner myself -ed]. As such, it's nice to see that the game was Kickstarted successfully, raising over 60,000 Swedish Krona (£4600ish) for developers YCJY to finish the post-apocalyptic undersea project.
A demo is already available, which includes a decent chunk of ocean for you to explore and a couple of bosses to defeat.
The combination of the art style and soundtrack makes for a fantastically melancholy, but sinister, atmosphere in the game. You'll need to try it for yourself to see. Screenshots and gifs can only do so much. Emphasis here seems to be on exploration and epic boss battles, with classic Metroid style gear-gating. The story of what happened to humanity while you were missing among the stars plays out ambiently via news reports and messages left by long dead humans. Expect talk of global warming and humanity's epic self destruction.
YCJY had planned to release The Aquatic Adventure of the Last Human at at the end of July release, but nothing concrete has been said on that recently. Price will be around $7, which seems way worth it if you ask me.