You Make Your Big Move: F1 2015 Talks Up New Handling
Zoom zoom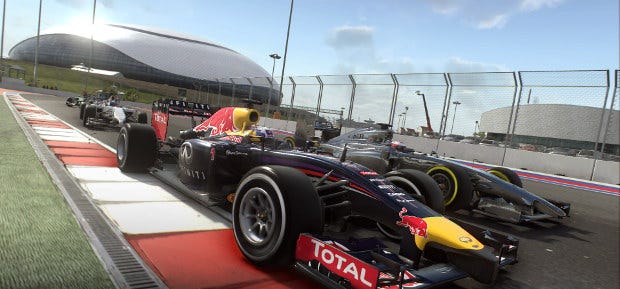 Codemasters announced this year's Formula 1 game alongside last year's, which looked a bit like a 'Well, we aren't quite ready for next-gen systems yet so how about if we just release next year's early once we figure that out?' gesture. With a June release scheduled, they're now showing a few screenshots and talking about what's new to F1 2015 [official site] other than flashier graphics.
Handling, mostly. The big 'ooh let's start talking about this' blog post goes on about car handling a lot, which is probably important for a game essentially all about handling.
Rather than recap it myself filtered through my lack of carfacts, here, I'll just bosh you a chunk of text from game director Paul Jeal and you can take it with as large a pinch of salt as you fancy.
"The handling is a vast improvement from our previous games. In particular our new tyre model is a superb step forward towards realism, letting you explore where the limit is and allowing you to instantly feel much more connected with the car. You can now experience the changes in grip caused by temperature changes, wear, car set-up, debris and weather conditions.

"Our improved vehicle dynamics much more accurately convey the difference in performance and the feel between mechanical and aerodynamic grip. The new Force Feedback system adds to the feeling of connection with the car and track surface. The more natural and realistic nature of the game physics also serves to ensure that the racing experience is more accessible, enjoyable and rewarding for players of all skill levels."
The blog post has a fair bit more on things that . Also it has pictures. Pictures of shiny cars.
Codemasters usually release their F1 games in September or October, towards the end of the Formula 1 season (which runs March to November). It's been an odd decision. I wonder whether they'll stick to this next-gen-induced release date bump in future. Anyway, nyooom: