Fa'el Is A Pretty PC Game With A, Er, Game Boy Companion
Yes, you read that correctly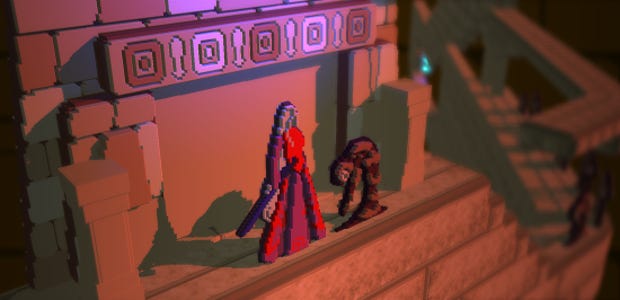 I do not have any real concept for how high-quality Fa'el - Beyond The Gate's platforming or perspective-shifting puzzles will be, but my resistance crumbles in the face of pretty pictures. This "2.75D" world has quite a distinct look to it, drawing on the chunky voxel building blocks of our day but putting a new (and literal) spin on them. That's hardly the craziest part, though. Fa'el will also support progress transfer (via a password system) to another platform - namely, Nintendo's positively ancient Game Boy Pocket. Because why not?
Obviously, the Game Boy version won't look like that, because that would be completely impossible. Unfortunately, details on both the PC and Game Boy versions are relatively sparse. Here's what the game's Greenlight concept page is offering at the moment:
Solve the mystery that links all the different worlds while you travel through them.
Fight bosses that will both challenge and amaze you.
Warp to the world inside yourself to customize it, improve your abilities, and source special powers.
Interact with the worlds and its inhabitants, experiment and have conversations, to uncover the deep history behind Fa'el.
Import content from the companion Game Boy game Fa'el – Beyond The Edge – via a password system (like in the old times!).
All of that sounds pretty great, like it could add up to be far more than the sum of its hardware-based, Voltron-like parts. Apparently the art style's set for an overhaul, too, so the final game might look even better.
For now, though, there's not much else to go on. Not even a vague release window. That said, I certainly plan to keep an eye on this one, and I wish it the best. It would be a terrible shame to see Fa'el fa'il.