No More Gothic 4 For You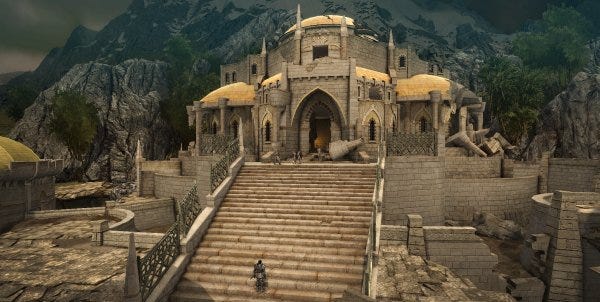 'Bittersweet' covers this news, I suppose. Arcania: Gothic 4 was a picturesque but depressingly stupid RPG, and one I couldn't bear to finish despite a lingering hope that at some point it would suddenly open up and improve. None of this was the fault of series creators Piranha Bytes, who lost the rights in a spat with publisher JoWood, but fortunately went off to make the far more interesting Risen instead.
Nonetheless, Arcania was deemed successful enough to warrant a standalone expansion, Fall of Setarrif, which promised 10 more hours of monster-bothering and a bit more variety. It sounded quite literally "okay." We shall never know for sure - Setariff has indeed fallen. And in a really weird way.

The game's on indefinite delay, amidst ongoing money problems at JoWood. First, here's what you're missing out on.
Sexy harpies. Ish.
JoWood are being pretty cryptic about the reason for the axe falling, merely revealing that some sort of legal tussle has led to an indefinite delay. "The legal background of the official add-on to "ArcaniA - Gothic 4" is unclear and diverse legal positions with the BVT fund that financed the main game are present."
BVT is an investment company with a division that specialises in gaming projects. According to Wikipedia, they even put money into Neverwinter Nights 2. Clearly, something has gone terribly awry either with the funding itself or in the spending on said funding. Or it may relate the current poor fortunes of JoWood themselves - according to this, they've already declared insolvency and are now facing the end times unless new investors can found sharpish. New investors prepared to shove $5m the publisher's way. Uh-oh.
The game was due for release on Friday. No more. It's possible we will still see it at some point, but it's not sounding good.