Built-A-Bot Workshop: Fallout 4's Automatron DLC Out
Smash the Mechanist!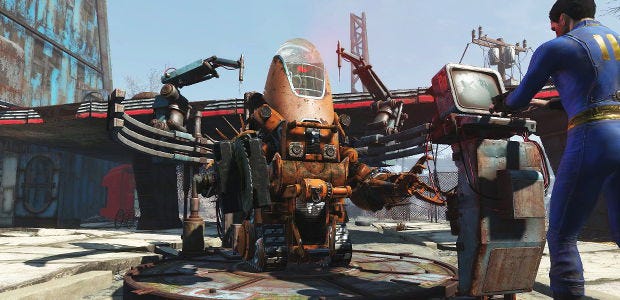 Automatron, the first DLC release for Fallout 4 [official site], came out today. It'll let wasteland survivors create and customise their own murderbots, all wrapped up in a new quest line. You want a buddy who'll leap at folks with dual stabby road drill arms or a big wheelybuddy bristling with guns? Get in, my son.
Plain old Fallout 4 is on sale to celebrate the launch too, with a 33% discount.
Automatron's story reintroduces the Mechanist, or... another Mechanist, presumably another person inspired by the Fallout world's comic book character. Fallout 3 had a Mechanist in a comedy questline but Fallout 4's seems way more serious, sending out hordes of evil robots. You'll get to murder these!
And, of course, you get to build your own bots. Bethesda say the DLC has "hundreds" of parts to pick from, limbs and armour and abilities and weapons and voices and everything to make your dream murderpal.
When Bethesda started detailing Fallout 4's DLC I thought the first couple of packs sounded like things mod might add - bot-building and a gladitorial arena - but liked they were being done with Bethesda's budget. A quest line with new voice work, a new settlement, and whatnot makes it a bigger, more polished package than you might readily see from a mod. Maybe this is a lesson Bethesda learned from Skyrim's Hearthfire DLC, which didn't do much that mods hadn't already. Steam player reviews for Automatron look fairly, though not entirely, positive so far.
Automatron is £7.99 on Steam, or included with the £39.99 DLC Season Pass. Fallout 4 is on sale on Steam for the next week too, with a 33% discount bringing it down to £26.79/$40.19. Here's the DLC's launch trailer: