Family Business: The Dark Eye - Demonicon
Necro-Style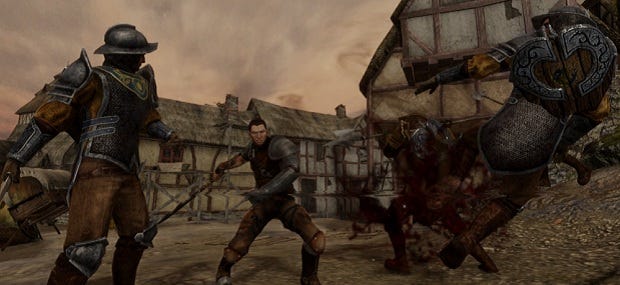 I am able to inform you that The Dark Eye: Demonicon is out today and that it is an RPG wit a fair bit of action in it. Other than that, I don't know a great deal - the list of features on the official website could have been taken from almost any fantasy role-playing game. It contains crafting, spellcasting, third-person combat and decision-making. In my desire to find the game's unique selling point, I ventured into the archives and found a preview from Gamescom 2011 but that contained little more than a demonstration of Alec's ability to predict Nathan's arrival at RPS and a frightening threat to my own existence. Expecting to learn nothing, I watched the launch trailer. At 1.13, I found the unique selling point - unexpected revelation of incestuous desires.
"IN ANCIENT TIMES A BAD MAN DID TERRIBLE THINGS USING AN 'ORRIBLE ARTEFACT. NOW THAT HE HAS BEEN VANQUISHED, HIS SOUL HAS ESCAPED AND, HENCE, SHADOWS. ONLY YOU CAN STOP HIM BUT DO NOT THINK I HAVEN'T TAKEN HEED OF THE WAY YOU HANKER AFTER THE CONTENTS OF YOUR SISTER'S BATTLE-BODICE."
As if that wasn't confusing enough, the narrator seems to be an omniscient storyteller sort of voice but then suddenly he's right there, in the player's party, leering at the hero and chunnering in his ear. Or at least I think he is. I'm still very tired. I don't need this on a Monday morning.