Far Cry Classic Is An Updated Version Of The Original
Cry Farther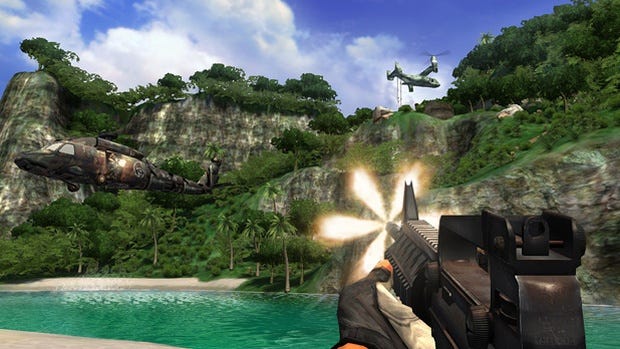 As part of my continuing display of ignorance, I hadn't realised that the upcoming Far Cry The Wild Expedition - a bundle of all the previous Far Cries in one imaginary box - was going to contain something called Far Cry: Classic - a slightly remade version of the original game. Something that's already available for consoles, apparently, but sigh Ubisoft etc. It seems the PC will only get it on the 21st, as a part of the rest of the pack.
Not being able to play it yet, I'm not entirely sure what's new in the remake. But they promise an HD version, with "realistic foliage", day-night cycles, and new vehicles. Which all sounds tremendous. Also, a little frightening for my brain, because I remember when Far Cry first appeared, and boldly declared then and there that graphics were photorealistic now. I wonder if I did the same the first time I saw a Speccy adventure scrawl a drawing of a Hobbit tunnel, staring in confusion at my television, convinced it had somehow become a window to another world.
The rest of The Wild Expedition will be the vanilla Far Cry 2, 2012's best shooter Far Cry 3, and the massively overrated Far Cry 3: Blood Dragon. All that for £25, which doesn't seem too bad at all. It's just a peculiar and inexplicable shame that Ubi has no plans to release the £8 Far Cry: Classic as a standalone on PC.