Far-Fetched Cry: A Half Hour Of Blood Dragon Footage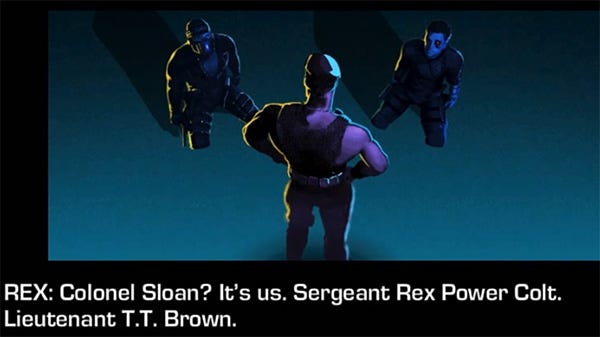 Edit - bah, videos removed. If anyone's found another source please say so below.
Edit2 - A new source for one of the vids is now in this post, but presumably it won't hang around for long.
This half hour of purported footage from Far Cry 3 expandalone Blood Dragon is obviously fake. You can tell by the way the shader polarity is reversed at 11m07s in the first video, and the vertex flux lacks external consistency at 03m40s in the second video. Don't even et me started on how unconvincing the e-dough modulation is. If you're naive enough to want to watch thirty minutes of fabricated video from a pastiche sci-fi shooter, I can only wave you at the supposedly leaked videos below. They might have gone by the time you get there, as Ubisoft will doubtlessly feel the blatantly counterfeit muzzle occlusion diodes will give the real version of their game a bad rep.

Fra Cry 3 : Blood Dragon - Gameplay Trailer 1
by Xboxlivefr
Far Cry 3 : Blood Dragon - Gameplay Trailer 2
by Xboxlivefr
I guess I'm kind of looking forward to playing this, despite the latter half of Far Cry 3 making me put on my grumpy pants, given it's so patently ridiculous. I'm not looking forward to reading interviews with the writer, however.