Far Too Many Men Of War: Assault Squad 2 Screenshots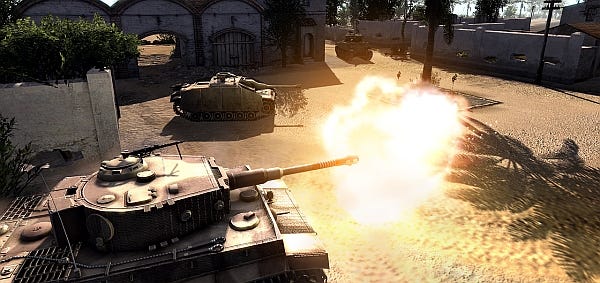 Jim would approve of this post, I think. There are 22 screenshots of the recently announced return to Men Of War: Assault Squad 2 for all you tank lovers. 22! You'd need to be a polydactyl cat to count them all. Some were deployed post-announcement, while others have been rumbled out at Gamescom 2013, but all show war in sharp relief, showing off a fair variety weather conditions, and a mixture of urban and countryside battlegrounds for your tanks to mess up. More below.

Some dry facts before leaping into the visual treat I've laid out for you: "This new Assault Squad game brings significant game engine and visual improvements as well, with special attention paid to ones that were highly requested by the players. These included items such as advanced multi-core support, advanced shader technology, interface and AI improvements, as well as added camouflage depending on season/map, fully updated inventory items with new graphics and updated vehicles, sound improvements, Steam multiplayer and much more." Much more? That would be the ridiculous sounding 8 vs 8 multiplayer fights.
Apparently they're attempting to squeeze it in by the end of this year, with a Q4 2013 release date. As ever, strategically clicking these to make them bigger is advised.