Farming Simulator 17 harvests Platinum expansion
Mooooooo!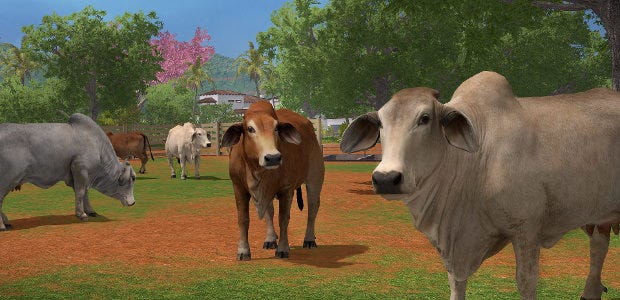 I wish farming simulators could be an odd chillout experience for me similar to what Alec finds in American Truck Simulator, but sadly their repetition requires a different type of attention that I just can't relax under. However, I do still admire them - and some of the pretty places they go. Farming Simulator 17 is off to South America today in its first big expansion, farming red soil under a bright sun.
The fanciest feature of the confusingly-named Platinum expansion is the new South American farm. It's a big new land to farm and explore, complete with local zebu cows to lark about with, regional flora to admire, and sugarcane fields to farm. Here, watch the launch trailer to see the lovely tree out in front of the new farmhouse:
That's nice.
The expansion also packs loads of new vehicles and tools and things.
Farming Simulator 17's Platinum expansion costs £15/€20/$20 on Steam. Or, if you don't have Farm Sim 17 at all, you can get it with the expansion for £30/€35/$35.
Something I'd be curious to see in a farming simulator, reaching for that chillout experience, is a narrow focus on a few crops or species. I want slow farming, long days and weeks on the same task. I want the routine of quiet early mornings -- tugging boots on and feeding the chickens -- then getting animals in at night. I want one aging vehicle I come to know like a dear friend, conversing in chuggs and sputters. And, of course, I want that Spintires mud experience. I want something that's neither super-serious farm management nor arcade-y farm 'em up action. If I close my eyes, I can see a tractor crawling over a hill on a dark and cloudy winter's afternoon. Farming Sim will never be this and I don't expect it to be - that's fine.