Fear Not: Walking Dead Ep 3 On Track For Mid-August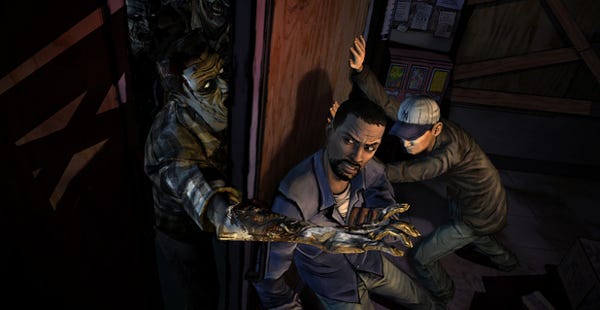 At the end of the day, zombie hordes are unstoppable, but they can be impeded - for instance, by tricky doorknobs, flamethrowers, and their most well-known nemesis of all: the pulse-pounding perils of game development. So it was with Walking Dead Episode Two, which managed to stumble and moan its way into the very end of June. Telltale assures, however, that the wait for Episode Three won't be quite so lengthy. Well, kinda.
Telltale delivered the news as part of an apology for Episode Two's tardy arrival:
"Our goal from day one has been to deliver your game episodes as quickly as possible, and where we can, simultaneously across all platforms and regions. We've been working closely with our phenomenally supportive partners to try to make this a reality. We will continue to work on this and furthermore, we will strive to improve our communication with you so that you know what's happening. Please rest assured that we are doing all we can to get your game episodes to you as quickly as possible."

"For many of you, the most important thing is to let you know when the next episode (Episode 3: Long Road Ahead) will be available, and although we can't give you an exact date at this time, we can say that episode three will be ready in the middle of August, and that we and our partners will do all that we can to release all platforms and regions as close together as possible."
That falls pretty safely within "episodic" range, I think, given that Episode Two's only been telling its gruesome tale since last week. Or, of course, there's always the possibility that Episode Three could get delayed and sidelined for upwards of a half-a-decade while fans affix its visage to the backs of milk cartons and create petitions to draw it out of hiding. Maybe Telltale should've just pulled a superstitious hotel manager and just skipped straight to calling this one Episode Four. Better safe than sorry, right?