Fiddle With Fate In This Starry Midnight We Make's Demo
Mystic-o!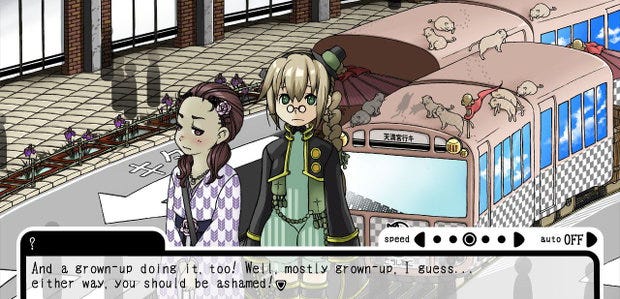 Does the movement of the planets and stars influence your behaviour and your destiny? Other than making you giggle when astrologers talk about "Uranus rising", I mean. Story-o-puzzler This Starry Midnight We Make [official site] gives the power to shape the sky and change the world.
Starry Midnight is the latest Japanese game being localised and published by Carpe Fulgur, the folks who brought Recettear: An Item Shop's Tale westward. They plan to release it later this month, but for now it has a demo you can try.
As it's a bit of a weird one, I'll defer to Carpe Fulgur's description:
"This Starry Midnight We Make is a story-heavy puzzle-simulation game, in which the player utilizes the "Star-seeing Basin" to create a simulation of the night sky, as seen through the lens of Japan's ancient system of onmyou divination. As the player creates various stars, they will have an effect on the world around them, and will get to watch the stories of individuals tied to the Basin unfold, with cutscenes utilizing Starry Midnight's unique graphical style."
Reading that, I crossed my heart and whispered thanks for every time Mystic Meg has done the washing-up without abusing this terrible power.
If that piques your interest, the demo is on Steam and the game's site.
Developers Cavyhouse released the game in Japan a while back. This localisation is due May 25th on Steam and GamersGate at the price of $10 (that's about £6.50).