FIFA 15 Gets E3 2014 Trailer, Is Balls
What a load of foot-to-balls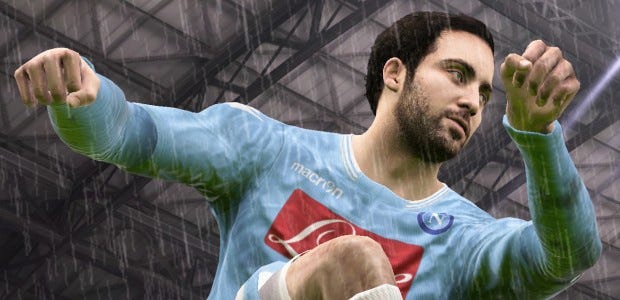 FIFA 15 is a game that I will definitely play. The latest entry in EA's endless foot-to-ball series will bring the PC version in-line with the next-gen console releases, finally giving us the new physics and graphics engine that console players received last year. It'll also bring one of E3's most hyperbolic trailers, which is embedded below alongside a thousand whiny complaints from me.
Two things. Thing one: that is one of the most hyperbolic E3 trailers I've ever seen. Here are some quotes:
"Football is the greatest drama on earth."
"These leading men take the ball, take the man, and take their place as legends."
"Our heroes run through walls to ignite our imagination."
"One magic moment lives in our hearts forever."
"We live for these moments. We ARE these moments. This is more than a game. This is football."
Football is no longer a game, I take it.
Thing two: before this dramatic video played, an EA Sports developer outlined some the new features to be included in this new iteration. There was a long list of little details pulled out as extra footage played behind him, but the big hitters were exactly the kind of thing I guessed they would be; i.e. capitalised names given to redundant additions ("Emotional Intelligence" and "Living Pitch") or slight revisions of existing features ("Agility & Control" and "Man to Man Battles").
How are Man-to-Man Battles different from the way that FIFA 13's "second generation of the Player Impact Engine expands physical play from just collissions to off-the-ball battles between players"? How are FIFA 15's "Agility & Control" 'biomechanics' any different from the claims of FIFA 13's "Complete Dribbling" (both quotes from this press release)? Isn't Emotional Intelligence's goal that we experience the "personalities of the world's best football players" really just an extension of FIFA 11's Personality+?
Of course a yearly iteration of a sports series is only ever going to iterate on the previous year, but I object firstly to generalities and patch notes being dressed up as "new" (used 11 times in the FIFA 15 press release) and object secondly to being asked to pay (pre-orders are open now but I'm not linking them) for something so meager in ambition.