Fight Over The Monochrome Wrongscape Of Hunting Anubis
Hunting A-noob-ish, more like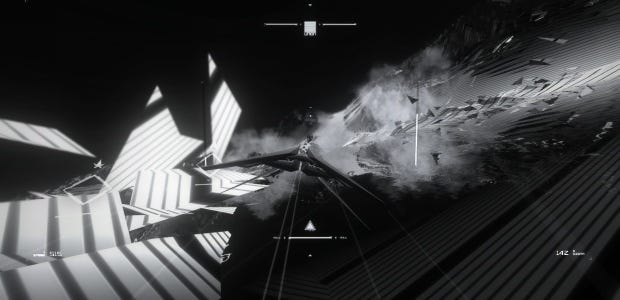 Hunting Anubis is something special, though I can't work out how special because I'm bad at it and it quickly begins to feel a little too Hunting A-noob-ish. It's a combat flight sim about dogfighting multiplayer and bot opponents above an artfully glitchy monochrome wrongscape, in which shimmering oceans bleed into polygonal mountain ranges.
It's beautiful, there's a trailer below, and there's a free beta build you can play right now.


Full disclosure: Craig sent me this because, let's face it, he's a better version of me.
A lot of my struggle with the game comes from its controls, which use WASD and the mouse. It's a Unity-powered game and so they can be partially remapped from the launcher, but I require a faster turning circle if I'm ever going to be good at aerial combat.
The game is scheduled for a final release at the end of the year, so there's still plenty of work to be done. You can follow its progress on its devlog, or go download and give it a whirl. It's absurdly beautiful, producing broken virtual landscapes better than anything I've ever seen, even if you're as bad at it as I am.