Final Fantasy XIV Rebirthing Its Realm In August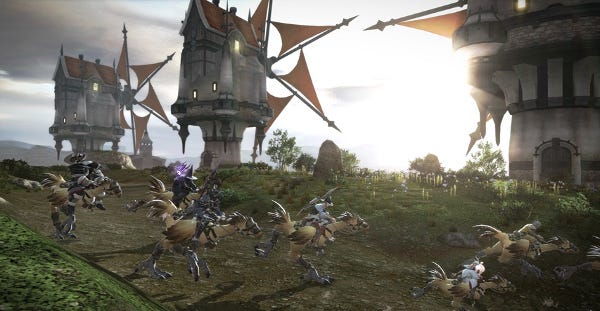 Final Fantasy's naming scheme broke down the moment Square decided to make a second one, but that was only the beginning. Now we're having a second go at a realm that's a distant relative of a different realm that wasn't supposed to be reborn 43845952 installments ago. The series has taken a long, strange road to get to this exceedingly confusing point, and the first version of Final Fantasy XIV was one of its lowest dips. To its credit, Square Enix quickly came to understand that after nobody bought it, and they've been hard at work on a complete revamp ever since. But were they able to salvage FFXIV's best bits (a hyper-flexible class system, lavish story scenes, lovably fluffy horse birds) and reforge them into a sharp, sleek modern MMO? Sounds like we'll finally (XXXVII Delta: Advent Crystal Cerberus Thunder Core) find out in August.
Looks like there won't be any short supply of gawk-worthy eye candy, and the horse bird cavalry rides again. Also, there'll apparently be some kind of scantily clad cat girl hot spring scene. Because Final Fantasy, I guess. That aside, this really does look like a place I'd love to obsessively explore. Towering megastructures and floating diddly bobs give the whole world this ethereal, larger-than-life feel, but each individual location seems to carry its own sense of identity. Here's hoping it's not just a see-through set that hits the ground with a hollow thud if you give it a little push - you know, like it was last time.
All will be revealed on August 27th, but we won't be going in entirely blind. A Realm Reborn's third beta phase will begin sometime next month, and it should be quite illuminating if nothing else. Have any of you participated in the other two portions?