First Sight Of Metro: Last Light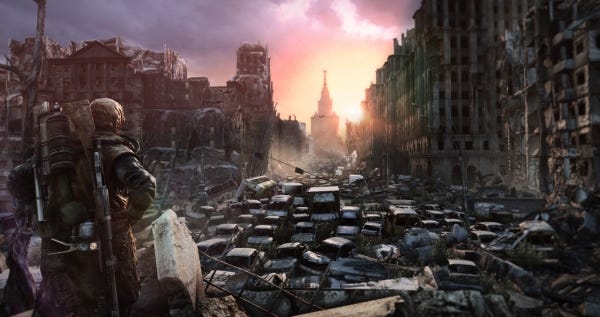 We knew that Metro: Last Light was happening back in April, after THQ registered the related URL. However, the official reveal of the Metro 2033 sequel has taken place today, along with a whole one screenshot (click on it to see it full size) and a teaser trailer. It's off to post-apocalyptic Moscow once more.
Developers 4A Games are promising, "one of the most richly detailed and beautifully realised gaming worlds of modern times" for the new game (and the image above certainly suggests that), which seems to be moving away from a purely corridor theme. It's described:
"Metro: Last Light pitches the player into the midst of a desperate civil war for control over a doomsday device that threatens to destroy humanity forever. The epic single-player campaign and unique multiplayer experience will benefit from the extraordinary lighting, physics and destruction made possible by Metro: Last Light's bespoke 4A Engine technology."
It will apparently combine exploration with survival horror, and is said to be as bleak as the first game.
A rather strange statement from THQ's "EVP Core Games" (they're just making up job titles now) Danny Bilson calls the first game "flawed" and takes a dig at, er, THQ for not marketing the game properly.
"We believe that Metro 2033 was a flawed masterpiece. It was a beautiful, original game that didn't get the marketing support it needed. We won't make that mistake with Metro: Last Light. This game improves on the original in every way - it will have more polish, deeper and more sophisticated gameplay, and satisfyingly visceral combat, without losing what our fans loved about the original. Metro: Last Light is another artful piece of game development from an Eastern European studio that will thrill and terrify anyone looking for a more cerebral experience than your typical first person shooter."
I imagine this indicates they're planning on giving things a bigger push to the States this time out, for a game they seem to be much more confident in. The release date is currently some time in 2012, and hopefully we'll be taking a closer look at E3 next week.
Here's the very peculiar trailer that might contain about 1.2 seconds of in-game footage, interspersed in picosecond glimpses amongst art work: