First Wonder - Spiritual Successor To Giants: Citizen Kabuto - Is Abandoned
Last Wander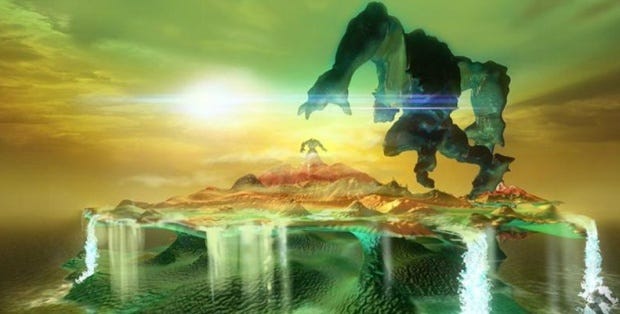 It's so very hard to know the cash value of fond memories. For games developers, it seems it's not until they test the idea in the cruel harsh winter of the real world before they can find out. So it is that Rogue Rocket Games have reportedly emailed backers of their spiritual sequel to Giants: Citizen Kabuto, First Wonder [official site], to say development is being abandoned and the studio put on ice.
Third-person action Giants never did well on its original release, either on PC or its later console version. It was only over time that it gained a following, and notoriety, and presumably some profits. While clearly that's the story of a number of games that have then gone on to be successful in their attempts to revive themselves - most recently with Double Fine's promise to make a sequel to Psychonauts - I think it can also be indicative of at the very least a warning sign. And Rogue Rocket didn't have the luxury of the IP to catch attention. (Presumably sensible people warned them away from risking a "Giants: First Wonder" or similar, although they'd likely have had a strong case for the right to the word.)
It's also worth noting that while obsessively wrong people like Kieron Gillen loved Giants, it was a really flawed game that would randomly kill you with absolutely no possible warning (always a rocket fired at you from behind) and had no save system to make that anything other than tedious. Still, my being right about the game not being so great - even though it looked amazing - didn't stop a lot of other people really adoring it. (Oh, and the new game had a race called "MONSTRO" - it was like they were just trying to get Gillen and Gillen alone to play it.)
However, those people didn't come together in force during an abandoned Kickstarter, that pulled the plug before it was even a tenth of the way to its half million goal. They pursued development anyway, apparently relying on 95% self-funding, and simply didn't have the resources or staff to be able to get it off the ground. Quite how they attempted to raise money is something of a mystery to me, since they appeared to just disappear after the Kickstarter cancellation. That happened on the 17th October last year, a full month after they last updated their site's blog, and a week after co-developer Nick Bruty posted to his Twitter. The company's own Twitter has only posted once since the KS, and that was to link to a Red Bull article (?) about how they planned to continue despite the setback. Not exactly how I'd run a fundraising drive.
It's a real shame, as First Wonder was looking like it could have been beautiful, with asymmetric play, giant creatures, and the gorgeous landscapes that drew people to Giants. Combined with their MDK-creating chops, there was good reason to want to see this one happen. But according to the email posted to Reddit (that we have yet to verify elsewhere, thanks to the four months of silence from all of their outlets), not only is the game abandoned, but Rogue Rocket is "going dormant" - quite a surprise bearing in mind they also have a casual gaming side. Bruty promises he still intends to make a game in the style of MDK and Giants, but intends to start from a much smaller scale, and recognises he needs to develop a new audience. And for those who've given them money, they're offering full refunds.
It must be brutal, watching other contemporary games with similarly nostalgic audiences, for some reason having the secret, magic or luck that allows a revival to happen.